By Emily Larson '20
The first time I stepped foot on the Bentley University campus, I was in awe. It was a tour for prospective students, on a hot summer day. I was wooed by the free water bottles, the trolley ride back to Upper Campus, and the handwritten note my tour guide mailed me after. Even without a single student on campus, I knew Bentley was a place I could see myself living.
Now that I am three months into my life at Bentley, I realize that college is quite different from my expectations. When I used to think about what college would be like, I imagined myself sipping coffee and reading a book while other students buzzed around me. I imagined myself going to the gym every day, hanging out with my friends every night, and eating lots of salad.
The reality is all of these great things do happen, but not without a little bit of grunt work — and some junk food mixed in. Mom is not here to kindly suggest I don't eat the extra cookie at dinner, and no one is here to push me to go to the gym except for myself.
The Struggles of 'Adulting'
Since starting college I have discovered the struggles of "adulting." Learning to live without parental resources constantly at my disposal is hard . . . and sometimes comical: I have to figure out how to fix this printer by myself? What kind of cleaning product can I clean my TV screen with? (Yes, I spilled something on my TV.) Wait, the Keurig has a filter? Should this go in the drier? Sometimes these little issues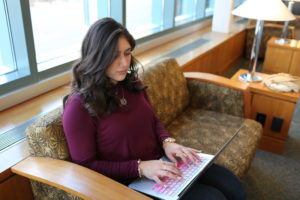 are awkward, but when I figure things out on my own, I feel embarrassingly proud.
The course load and curriculum at Bentley is very manageable now that I have gotten into the swing of things. Every professor has their unique way of running classes, and once I got to know them the adjustment was easy. My courses are interesting and challenging enough that I am learning valuable information, but not so difficult that I am tempted to pull my hair out after every class.
The beautiful thing about college that I didn't give much thought to before I came here is the unwavering, absolute freedom. It is an amazing and very new feeling to know that I can choose exactly what I'm going to do for 24 hours of my day. After so many years of having a regimented schedule, I can finally live and learn on my own terms, which include regular naps and Netflix time.
Social Studies
The biggest change that college has had on my life is the shift of social dynamics. Coming from a small high school with a
graduating class of 132 students, getting to know 1,300 other freshmen at Bentley seemed daunting at first. To me, coming here felt like entering the big, scary high school experience that I never had. Before Bentley, the time I spent at school and in my extracurricular activities doubled as my social time. College courses don't leave any time to chat with my friends (as they shouldn't for $80 a class).  In reality, though, every minute outside of the classroom in college — from going to the gym to doing laundry — is social time.
This newfound freedom is very nice, but it also requires lots of discipline. (Seriously, I could get on the Bentley shuttle and find myself shopping on Newbury Street within an hour.) Sometimes being able to do whatever you want to do makes it more difficult to sit down and focus on school work. But this is a valuable skill to learn, and I can already see myself getting better at it. For just about everyone, the first few months of college are full of adjustments, new experiences, and learning. I can't wait to see what the rest of the year brings.
Emily Larson is a freshman Marketing major from North Smithfield, Rhode Island.