By Emily Larson '20
Convocation: A word I personally was familiar with upon starting college, and a word I am sure many other students had never heard before August 24. Well, what does it mean? As defined by Bentley University, the concept of convocation is derived from English medieval custom, when kings and their courts were associated with Oxford University and the church. In simpler terms, at Bentley, Convocation is a ceremonial induction of the incoming freshman class.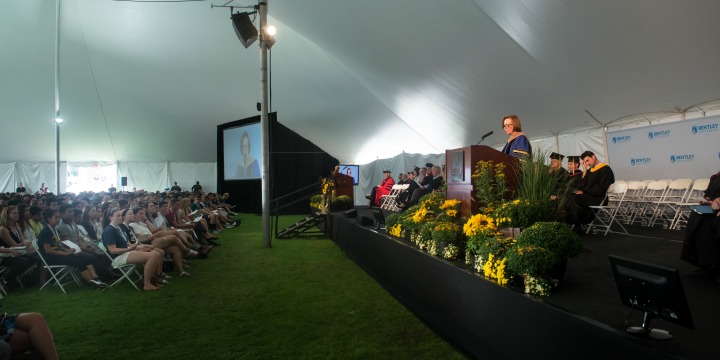 Having just said our goodbyes to families and friends, most of us felt bittersweet. Questions swirled in my head: Will I make friends? Will I get homesick? Will my classes be difficult? As I sat squished between two complete strangers eating a pre-made sandwich my mother hastily handed me that afternoon, the reality of being away from home set in. (Cue panic mode!) Then I realized that the two people I was sitting in between were now my fellow classmates. It dawned on me that every other student under the tent was probably feeling the exact same way that I was.
A BUZZ OF EXCITEMENT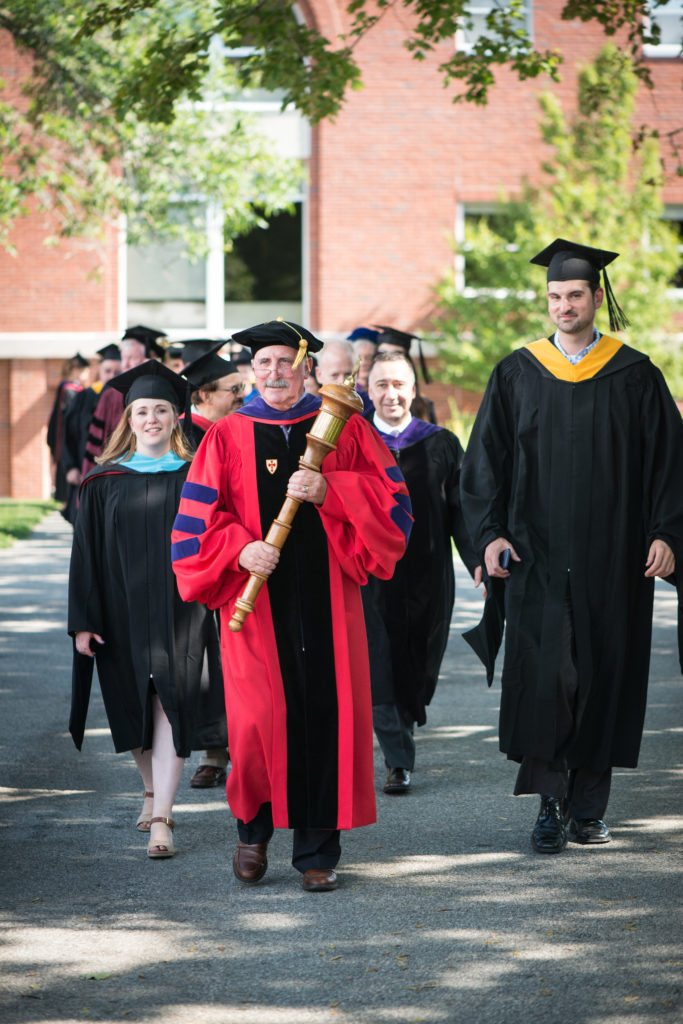 As the professors, deans, and Bentley President Gloria Larson entered the tent with the same pomp and circumstance that I recalled from my recent high school graduation, there was a buzz of excitement among the freshmen. We saw President Larson's familiar face calling Convocation into session and wondered what the next few days at orientation would hold.
Draped in their scholarly robes, members of the administration spoke about our bright futures and the experiences we will gain at Bentley. Marketing lecturer Jim Pouliopoulos evoked a knowing chuckle from the New Englanders in the crowd when he described the weather in Waltham as a "wicked hawt summah day."
Walking past those same professors, deans, and President Larson at the end of the program as they clapped and congratulated the Bentley Class of 2020, I felt welcomed and energized about starting my orientation activities.
OVERCOMING CHALLENGES
After a week, most of my initial worries had faded and I felt immersed in the Bentley culture. The answers to all of my questions are yes… but overcoming those challenges are what make the Bentley experience so fulfilling and unique. There are bumps in the road for everyone, however it is how we handle those bumps with the help of the Bentley resources and community that determines our futures. I am a few weeks into my Bentley career and I am already reaping the benefits of this school.
Perhaps the most resonating aspect of Convocation was the thought that the next time we would be addressed formally by Bentley faculty and administration would be in four years, at our Commencement ceremony in May 2020. Before we start daydreaming about graduation, however, we need to focus on getting the most out of the Bentley business education that brought us all here.