"This trip was one of the best things I've done during my time at Bentley University," shares Greeshma Rajeev '16.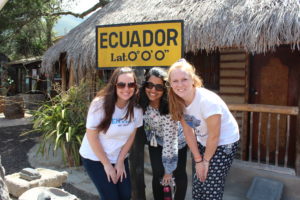 Bentley is known for both its extensive service-learning and study abroad opportunities. In March, the two came together when 16 students traveled to Ecuador over Spring Break for an international service-learning experience. The trip was embedded into Professor Cyrus Veeser's Latin American history course.
During the 10-day adventure, the students — who ranged from freshmen to seniors — stayed in the heart of the indigenous Mondaña community, deep in the Amazon rainforest. They worked alongside community members to build the foundation for doctors' residences at a new health clinic.
One student even created a video of the trip:
Three Bentley departments — the Service-Learning Center, the Cronin Office of International Education and the History Department — came together to make the trip happen, working with change-the-world organization ME to WE.
And the event couldn't have come at a better time: This year marks the 25th anniversary of service-learning at Bentley.
"Service-learning is a proven pedagogy with great benefits to students because it helps them take a hands-on approach to what they're learning in the classroom and get real-world experience," says Bria Wilbur, the assistant director of programs and initiatives, who went on the trip. "And international service-learning gives students a more well-rounded perspective when it comes to their impact on the world as global citizens."
Once-in-a-Lifetime Adventures
The trip included many cultural experiences for the students. They played soccer with local children. They visited a shaman who performed a ritual to encourage positive energy and good luck. They traveled to a local cacao farm and learned about the chocolate-making process. They participated in a women's artisan group, where they talked to the women about their livelihoods and learned how to weave bracelets. They even ate beetle larvae, a delicacy in Ecuador.
But nothing gave the students a deeper cultural understanding — or a bigger sense of pride — than the work they did building the doctors' home.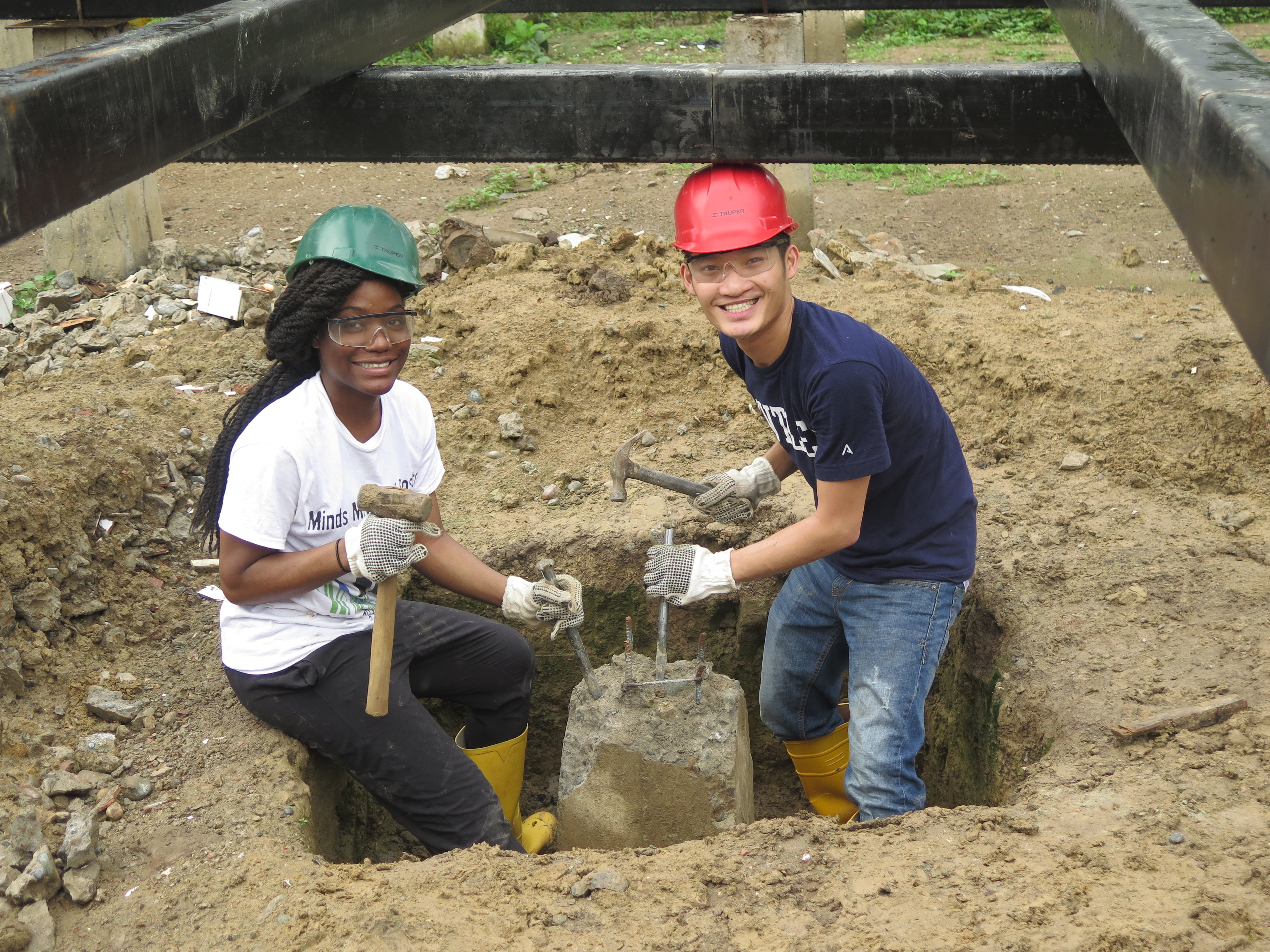 "When you're spending the bulk of your day working side-by-side with local people on a build site, you have a much more rewarding experience," says Natalie Schlegel, director of international education, who also went on the trip. "It takes it beyond tourism and into participating in daily life — and that is a much more powerful learning experience.
The work also allowed the students — even those who couldn't speak Spanish — to bond and communicate with people in the local community.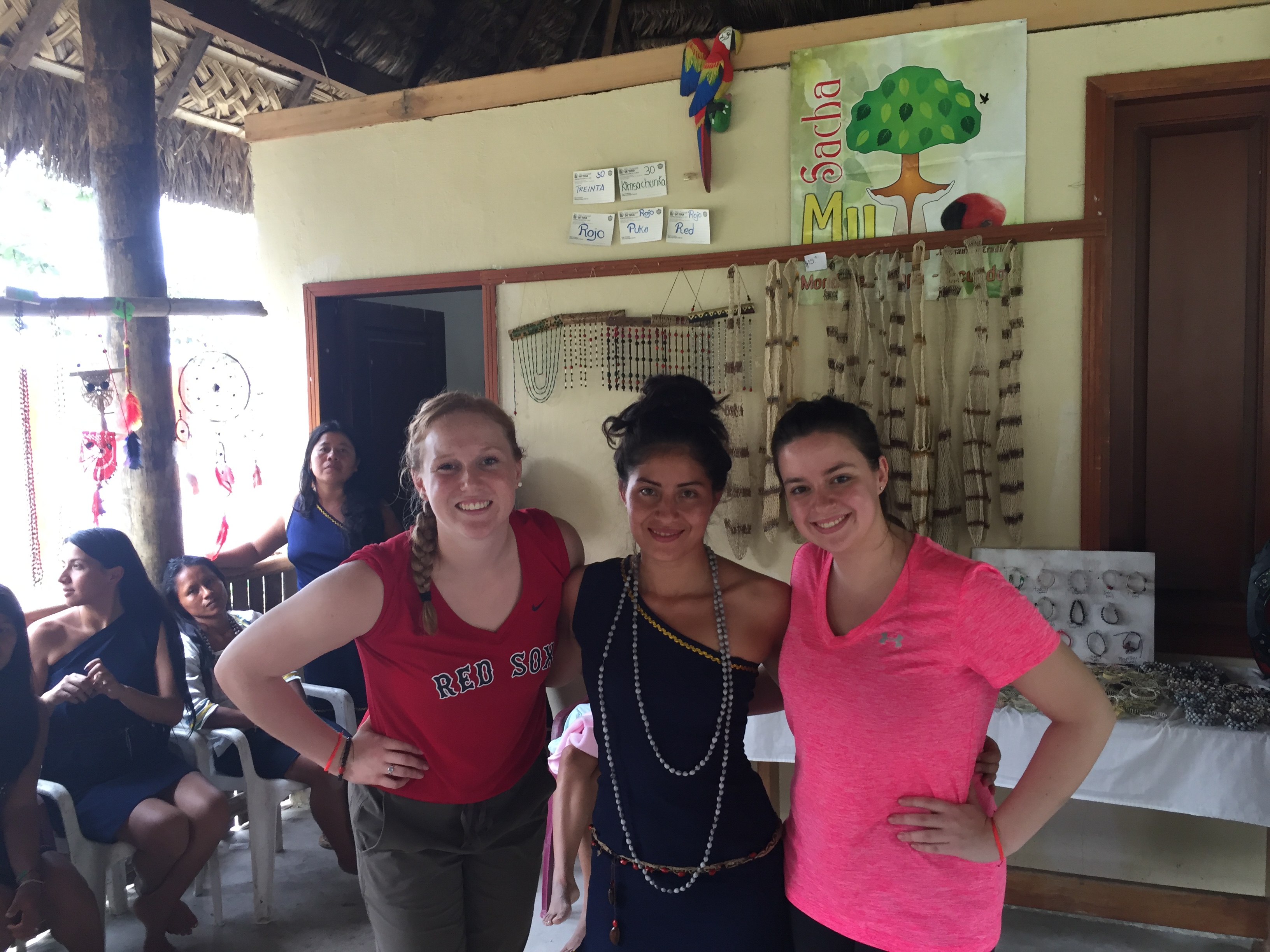 "There was genuine contact between the students and the local people, who really opened up," says Veeser. "I was very surprised at how little the language barrier mattered."
This isn't the first time Bentley has focused on Ecuador. For the past few years, the Service-Learning office has worked on a project called BUIILD (Bentley Unites to Improve International Livelihood and Development) — an initiative to bring sustainable development to the Ecuadorian community of Los Ríos (which students visited during this trip). Last year, the campus raised over $10,000 for a school and this year their efforts are towards bringing a clean water system to the province — learn more about their latest project.
Getting Dirty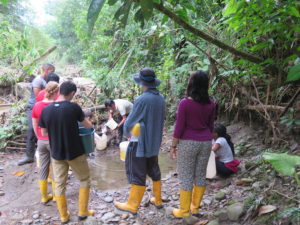 The volunteer work on the trip required the students — and the faculty and staff accompanying them — to be innovative and to get down and dirty. When Joey Milici '17 and Veeser were tasked with breaking boards, they created their own "chainsaw" using two stones and a hand saw. When the team needed concrete, they canoed across a river, loaded bags with sand, and mixed the sand with water and cement to make concrete.
Combining Travel, Service and Learning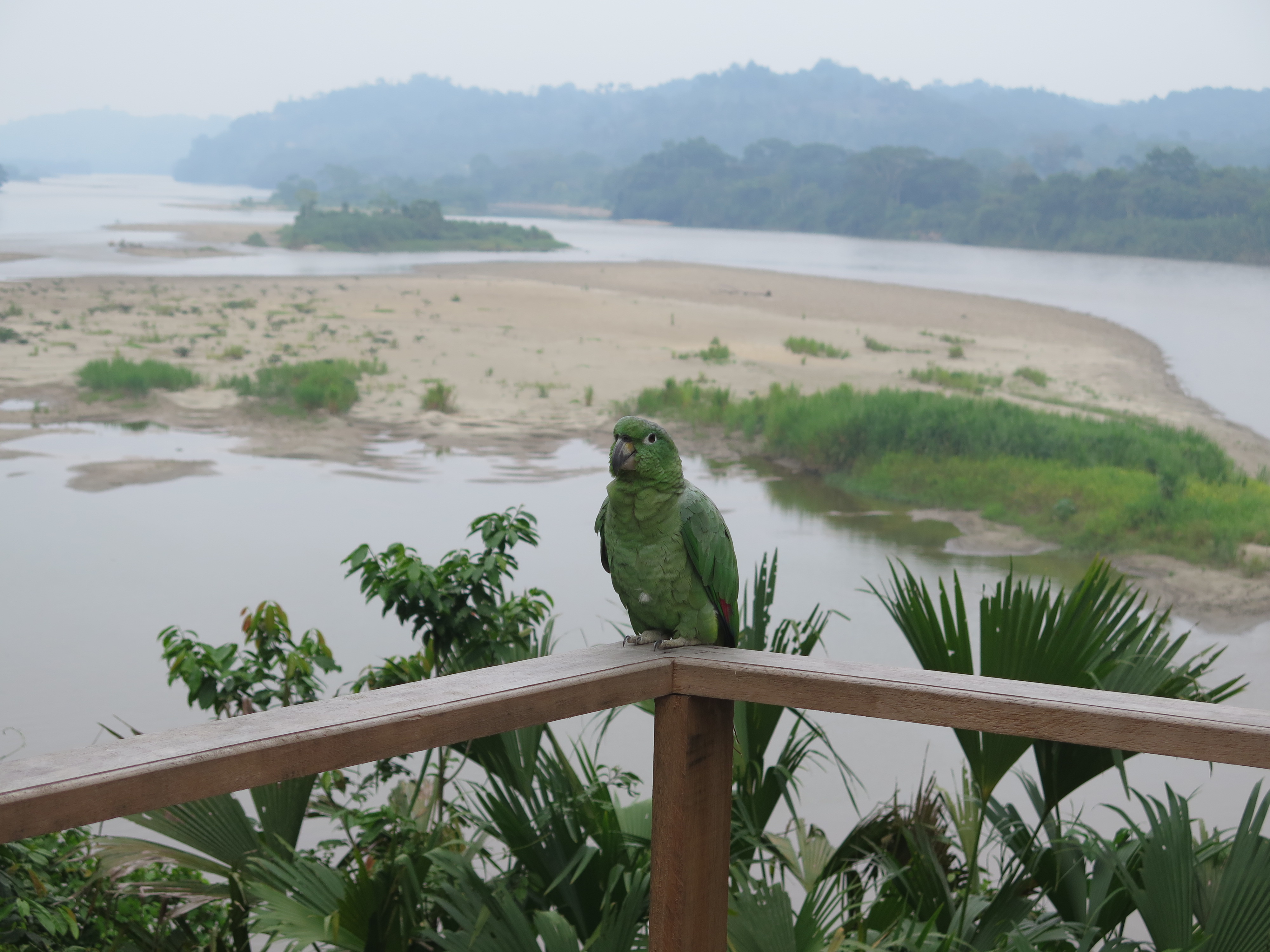 But the learning didn't stop when the students hopped on a plane back to Bentley. They're also doing research projects that connect present-day Ecuador to some of the themes talked about in the history class. Everything from freedom of the Ecuadorian press and the country's new health care system to the banana exportation industry and how falling oil prices have impacted the government.
Reflecting on Ecuador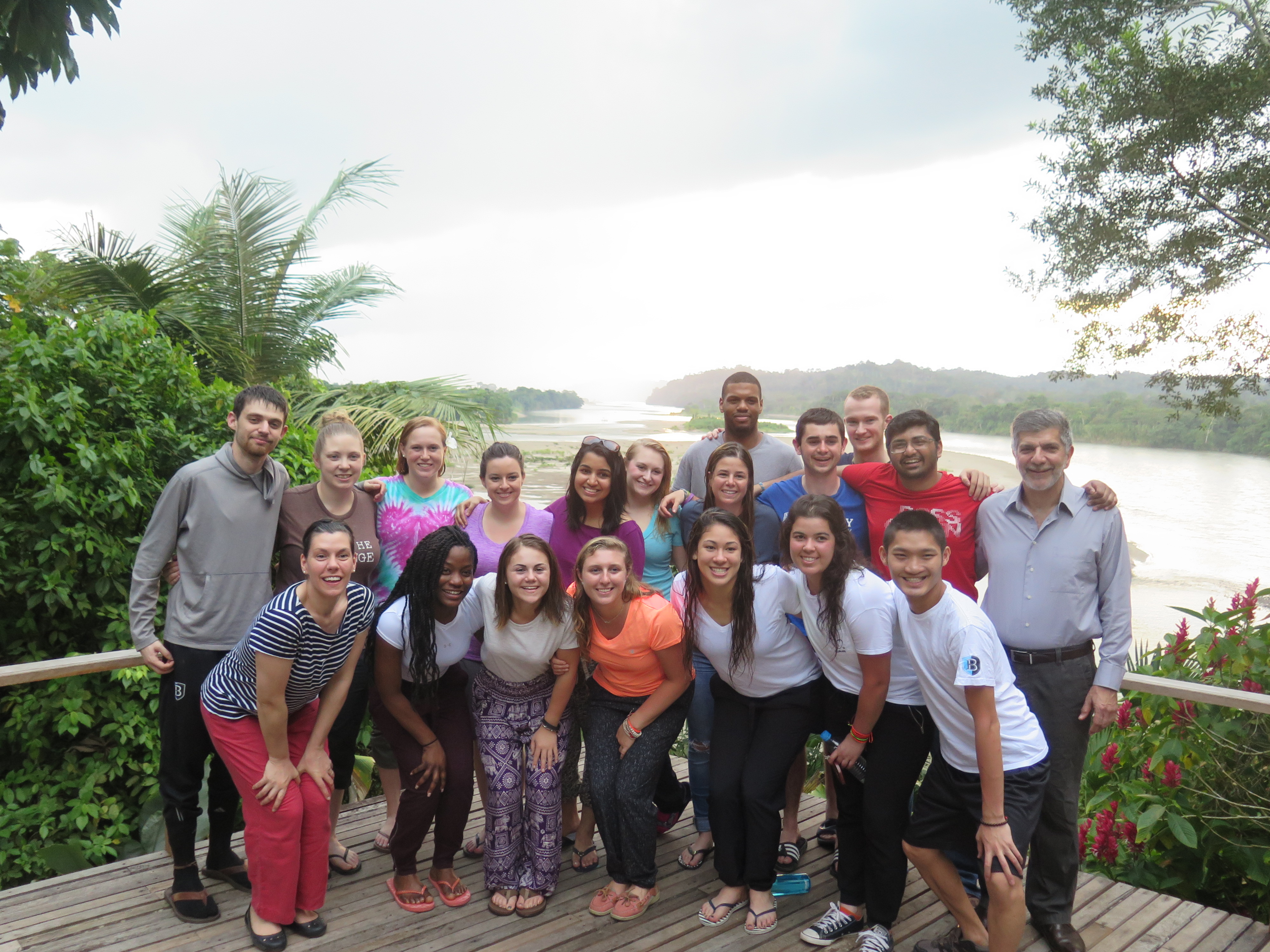 Due to the success of the trip, Schlegel says the university plans to conduct more international service-learning adventures. Though they may not be to the same country — or even the same continent — they will always include time for the students to reflect on their journey.
"Reflection is a key piece of any study abroad experience, especially in the developing world," she says. "When students are experiencing such differences, they really need to process their experiences in order to have good learning outcomes."
Here, four of the students who attended the Ecuador trip reflect on their life-changing experiences: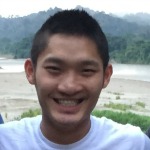 Jackson Le
Freshman
Major: Liberal Studies with a concentration in Diversity and Society
The best part of the trip for me was the cultural immersion experiences that allowed us to fully live the reality of the natives in the Amazonian region. We were able to interact with them and see what they go through on an everyday basis just to make a feasible living. And being able to reflect on that and on the experiences we had there was the most transformative experience for me.

My involvement in service-learning here at Bentley has been a crucial part of my college experience, and that's why I wanted to pursue this international service-learning opportunity. We were directly helping shape this change in the community. It was a nice feeling. Coming from a low-income background, I was really able to relate to the people I was helping.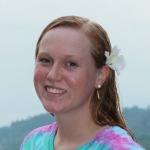 Rachel Palumbo
Sophomore
Major: Creative Industries
While building the foundation, we were fully exposed to the locals' daily lives — walking by with their kids, hanging laundry out to dry. It was amazing to be able to experience that first-hand.

I'm involved in service-learning at Bentley, working with low-income kids at an after-school program. So to go to Ecuador and experience a completely new culture, yet see that the kids there are very similar to the kids I work with every day, was really eye opening. It's confirmed for me what I want to do in the future: work for an international organization that brings resources to underdeveloped communities.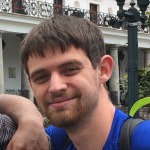 Joey Milici
Junior
Major: Accounting
I absolutely loved this trip. Being able to see a new place and immerse myself in a different culture made me not only appreciate our differences, but also see that we are all one human race and have similar hopes and dreams.

And the service-learning aspect helped put everything into perspective. Every evening after a long day of work, we would come together to reflect and talk about the poverty we were seeing, about fair labor practices and about social issues that affected the people in the community we were helping — as well as all around the world. My classmates and I really developed a close bond. It was an amazing experience.
Greeshma Rajeev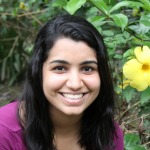 Senior
Major: Economics
It was so rewarding to wake up every day with a purpose, to step out of my shoes and get to know another culture and way of life. It broadened my perspective. Though it was tough to see how the people in the community lived with so little, they were all so happy and humble and welcoming.

The work was tiring. We did a lot with our hands. We were sweaty. But at the end of the day, thinking about how much of a difference we made in that community was very rewarding. This trip was definitely one of the best things I've done during my time at Bentley. As a result of it, I've decided to get a job in the non-profit industry after graduation.

Editor's Note: On April 16, 2016 a powerful earthquake devastated the coastal region of Ecuador. A group of Ecuadorian students from schools around Boston (including Bentley) united to raise money for and awareness of the tragedy. Check out the Boston Strong for Ecuador website to learn more about their efforts and donate to the cause.