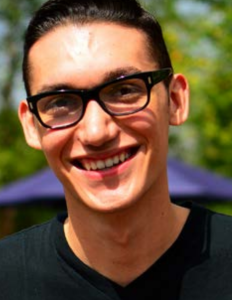 By Justin Rosado '17, a Marketing major and serves on the Student Honors Council.
Case interviews are types of interviews in which the candidate is given a scenario or series of problems that they need to resolve. They are an important part of the business world, and it is critical that prospective employees understand their ins and outs. This past spring, I had the privilege of sitting down with Len Morrison, the director of Career Services here at Bentley University. Our conversation revolved around the nature of case interviews and how Bentley students can successfully prepare for them.
Perhaps the word Morrison used the most was "practice." There are methodologies that need to be rehearsed over and over for days on end in order to feel comfortable and prepared when walking into a case interview. Morrison discussed how the university has a plethora of resources to help students prepare for case interviews. One is the Virtual Career Center accessible via online portal BentleyLink, which allows students to watch recorded presentations to become familiar with the process.
In addition, the Bentley Library has a number of print resources available. Case In Point, an aptly titled book by Mark Cosentino, covers all the necessary topics required for a successful interview. Two other crucial resources Morrison mentioned were case interview compilations from the University of Michigan and Harvard University; these texts outline almost every scenario imaginable.
Perhaps the most valuable resource for preparing is Morrison himself. Just this fall, he was appointed to be a dedicated career adviser to Honors Program students. In this capacity, he will now be working directly with seniors in the Honors Program to provide tailored advice on strategies to maximize their employability, with an eye toward high value, selective employment opportunities. In addition to consultations and advice, Morrison's role also includes helping students to prepare for such case interviews.
In consulting, one's job is to solve problems, so the best way to test a prospective employee is by giving them a case to tackle. As a result, Morrison indicated that case interviews are most prevalent in consulting organizations and investment banking, but venture capital and private equity firms are increasingly instituting situational cases into their interviews as well.
Morrison stressed that employers are simply looking for logic with realistic assumptions and clearly framed arguments. There are no trick questions. In addition, the interviewer wants to see that you are willing to ask questions. One way employers test this is by giving cases that are not clear-cut, so you have to ask questions in order to figure out case intricacies. Employers want to make sure that you understand their business and the way it operates; asking questions demonstrates your dedication and willingness to learn.
Companies may provide potential employees with insight into what is expected of them in case interviews. For example, Bain and Company has a brochure on their website called "How to Ace the Case Interview." The first tip they provide is to think of the interviewer as your ally; his or her questions are meant to evoke critical thought, not to stump or trick you. As such, there is not necessarily a definitive right or wrong answer to the questions they ask.
However, in addition to the systematic and methodical questions, some companies also like to throw brainteasers into the mix to further evaluate a candidate. I had a lengthy conversation with Michael Westervelt, a Google consultant, at a NABA (National Association of Black Accountants) networking event this past semester in which he briefly described his case interview experience. Westervelt told me that in addition to the normal consultancy scenarios presented to him, Google likes to use brainteasers, which seems very fitting given the make-up of the company. During his interview, Google asked, "If you had a penny, how many other pennies would it take to squish that penny?" Not exactly a question you would think to prepare for.
So how did the Googler respond? He came up with logical arguments based on gravitational force and other physics concepts. Westervelt said that he knew that there was not a right answer, so he just decided to have fun with it and think logically in an effort to hopefully formulate an answer that the interviewer found interesting.
To put it simply, be ready for your case interview. Make sure that you fully understand the purpose of the company and the potential problems it may need to solve. Study, study, and study some more. With the proper preparation, there is no need to doubt yourself when entering the room. Sure there may be a brainteaser amongst the methodology and problem-solving questions, but a brainteaser is a question that you can have fun with and a chance to show your personality. Analysis, methodology and logic are the three main components for success. If you master these three essential tools, you will be prepared to ace the case.
A version of this article first appeared in the Fall 2014 issue of Columnas, the Bentley University honors program newsletter.