By Amanda McCormick '17
Choosing where to go to college is no easy task.
For me, this process began sophomore year of high school, and quickly consumed my junior and senior year. I was overwhelmed by the endless opinions from family and friends and my brain was jammed with thoughts of SAT's, ACT's, college visits, and university marketing materials. At such a young age, it seemed impossible to make such a monumental decision that I knew would impact not only my next four years, but the rest of my professional life.
Unlike most of my friends who focused on how comfortable they felt on a campus (which is undoubtedly important), I took a different approach. I focused on the opportunities I would have to study a specific discipline: marketing, a major I selected before I stepped foot on any campus.
Future Focused
Having this focused mindset helped me decide which school was best for me. Now that I'm a senior, I can confirm that my more focused educational path was truly worth it. From day one, I was able to spend more time on courses and concepts that will impact my actual career and this carefully charted path allowed me more time to have a fun, fulfilling college life outside the classroom. I lead a nonprofit group on campus called Dresses to Dreams, work at J.Crew, go out in Boston with friends, and enjoy watching "The Bachelor."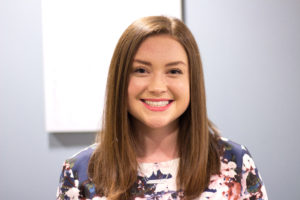 As a high school student in Connecticut, I was fortunate that my school offered courses beyond your typical high school curriculum. Of these atypical classes (which included consumer science and video production, for example), what captured my interest most were the business offerings, specifically marketing and advertising. They helped me realize immediately that this was a field in which I could see myself pursuing a career.
Also helpful was the fact that my parents encouraged me to pursue a business field of study from the moment I expressed interest, something that does not always happen for young women. Sons are more likely to be pushed to give business a shot and daughters are either left to decide for themselves or steered toward a more typically "feminine" profession. I am lucky that was not the case for me at home.
Early Advantage
Though marketing (which traditionally has a significant female interest) was my business function of choice, by deciding on business early and choosing a business school I knew I was going to be in the gender minority. In many of my general business classes, I was among the few women participating in discussion and group projects, which required me to find my confidence footing pretty quickly. Knowing my strengths and knowing what I wanted to study helped me do that.
Deciding on a discipline of study early also helped me look at internship prospects in a different, more focused way. My internships over the course of my undergrad career have spanned from public relations in higher education to international business for a fashion retailer to data analytics for a media agency, allowing me to explore many aspects of the field and figure out what I liked and didn't like about each.
While many of my friends (who I love and support!) were still switching majors and minors around because they couldn't decide on their interests well into junior year, I was refining my career options. I know if I was in their position, I may have felt disappointed that I didn't get the most mileage out of my learning passion during my undergrad years.
I also know that I have been better prepared for the internship and job interviews in which I've participated because that has been part of my business training. College is a time to absorb and explore all kinds of broad topics, and I've done that for sure too but, when I made the choice to go to Bentley University at age 17, what was more important to me was that these four years served as a launching pad into a lifetime of career engagement.
Stress Relief
The case for having an entirely focused undergraduate education doesn't just apply to business students — insert arts, technology, engineering, and the like here, too. I think if high schools worked harder to promote areas of study sooner — whether through course offerings or simply more information for students on specific programs rather than certain universities as a whole — students can choose to have a more focused vision of what their undergraduate career (and beyond) will look like.
As crazy as it sounds, I think this might help alleviate some of the intense stress high schoolers feel as they begin the college search. They have enough on their plates, guidance counselors must focus on helping students find their strengths and passions in order to propel them toward career and life success.
Amanda McCormick '17 is from Fairfield, Conn. She is a Marketing major with a Liberal Studies Major in Media Arts and Society.