By Kristen Walsh
Since coming to Bentley, Kymar (Kymmie) Stewart '19 has developed a new sense of diversity, well beyond skin color and ethnicity. It's one of the main reasons she hosted a prospective student at Bentley's ALANA (African-American, Latino-American, Asian-American, Native American and multicultural) Overnight. To "show the reality of what you're going to get as an ALANA student at Bentley."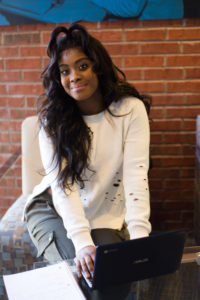 "I know what it's like to have doubts and wonder if you'll fit in," says Stewart, who was born and raised in Montego, Jamaica. "But just because someone has the same skin color, it doesn't mean that they're going to like the same things or think the same way you do. Diversity is also about things like values and talents. Until I came to Bentley, I didn't realize how diverse the community actually is."
Taking a Chance on Bentley
The ALANA Overnight is among a number of programs designed to celebrate diversity at Bentley. Following Bentley's Open House for Admitted Students in April, ALANA students are invited to stay over on campus with a student host, enjoy a feast featuring cultural dishes prepared by various student organizations, and attend special events ranging from a Men's Basketball game to a paint night. The Overnight not only gives prospective students an up-close look at Bentley's campus-wide commitment to inclusiveness, but also the chance to make friends before they're even enrolled.
Stewart considers herself lucky that she took a chance on Bentley, a community she now calls "amazing." And she knows that her decision would have been a lot easier if she took advantage of the ALANA Overnight. As a host to students in the program, she shared her experiences — and kept it real.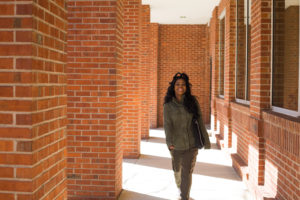 "A group of us hung out and talked about expectations," she recalls. "College is an adjustment, and the more you get involved and meet new people, the more you will realize what you can learn from one another."
Thriving in the Community
Stewart takes her own advice. She is co-founder of the Caribbean Ancestry Student Association at Bentley. The organization promotes awareness of the various Caribbean cultures, serves as a social outlet for members and promotes academic excellence among members.
Her favorite part of being an ALANA Overnight host — in addition to meeting new people —was being a part of the decision process, "helping people figure out if Bentley is right for them." Her student, Krystall Williams, ended up at Bentley and is "thriving in the community." The two built a bond; they are part of the same circle and talk about three times a week, according to Stewart.
"I like the fact that Krystall was able to come to Bentley and see for herself what it's like," Stewart says.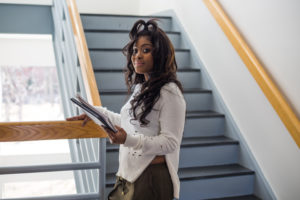 Reflecting back on the questions that she had about the Bentley culture, Stewart is glad she kept an open mind. "I just love Bentley and everything that Bentley stands for," she says. "I enjoy being an ALANA student here because it embodies Bentley's values of diversity and inclusion of all — no matter who you are or where you come from."