Entrepreneurs of Bentley is an article series profiling the latest innovations and startups from the Bentley University community. Know someone who should be featured? Tell us about it at Bentley.edu/story
Entrepreneur: Melisa Kocarslan '16
Hometown: Palos Verdes Estates, California
Major: Management, with an entrepreneurship concentration
Minor: Computer Information Systems
Company: Bazaar Box
I lived in Turkey until I was five, when my family moved to California. When it was time for me to go to college, I fell in love with the Northeast and especially the Bentley campus. I liked the number of options available for majors here. I wasn't entirely sure what I wanted to do yet, but I had business in mind. My parents were very excited for me to go here.
I would take frequent trips to Turkey and always spent some time roaming around the Grand Bazaar in Istanbul. I was fascinated by the craftspeople fashioning jewelry from metals and natural stones—it was so interesting to watch. When I came back, I would wear pieces I bought there. Everyone loved them and constantly asked where I got them.
Check out the rest of the Entrepreneurs of Bentley series.
---
What is Bazaar Box?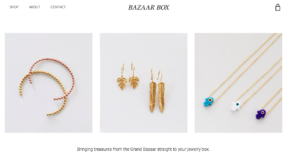 Bazaar Box is a new kind of online jewelry retailer. I've set up partnerships directly with merchants at the Grand Bazaar and sell jewelry directly from the people making them.
Is it hard to run a business dependent solely on exports?
My dad lives in Istanbul and I spend lots of time there, so when I visit I can meet people face-to-face. The people aspect of my business is very important. When you're behind a computer screen, it's hard to fully appreciate where the jewelry comes from and what goes into making it. Face-to-face business relationships also help with agreements and quality control. The entire process has a lot more integrity if you sell something you know and aren't just remotely buying and selling.
Knowing the supplier personally also helps alleviate any concerns about demand outpacing supply. If orders increase, I know he can take care of it between two-to-three business days.
What makes your product valuable in today's world and what do you hope people will gain from using it?
Many big name stores take the evil eye symbol and the Hamza symbol and just slap it on stuff. That way, it has no value.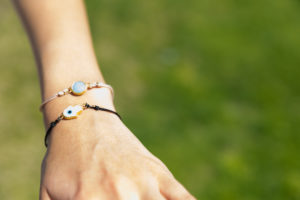 In Turkish culture, these symbols are meaningful. With consumerism, you sometimes buy things without thinking. I am trying to change that by bringing awareness of the cultural aspect of each piece I sell.
Did you recruit anyone else to work on your business with you?
Except for the suppliers in Turkey, right now it's just me doing all of it. There's lots of trial and error, but I like handling everything on my own (like the photography or designing the website).

Through my management classes at Bentley, I learned how to communicate and haggle. As the business grows, order fulfillment will be one of the biggest things I will need to take on, and also content marketing.
If I end up having to hire a few more people on my team – they will probably be Bentley students, since they're so hard working! Also, I want to hire people I know. Your business is like your child, you must only hire people you really trust.
Roughly how much time per week do you spend working on your business?
My business is always on my mind, so I'm not really sure numerically. It takes up all of my free time. I'm always thinking of ways to improve on the business.
How do you juggle that work with schoolwork?
My schoolwork isn't suffering and my grades have remained steady. It takes time management and discipline — skills I've acquired at Bentley.
What have been some of your biggest challenges in becoming an entrepreneur?
I think it's really been pulling all different parts of the business together. It requires much more than I thought it would at the beginning. In order to be successful, you can't let anything get overlooked. There's always something coming at you.
Are there any issues that have particularly surprised you?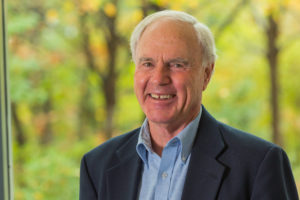 I have a mentor on campus, Professor Tuffile, the director of Entrepreneurial Studies, and I talk to him when I have questions. He is a seasoned entrepreneur himself and he helps me avoid surprises. His help has been invaluable.
What do you like most about being an entrepreneur?
The freedom!
What's exciting is the ability to come up with an idea that fixes a problem and you can make a difference. There are no constraints and no limits to what an entrepreneur can do.
Have you always been interested in starting your own business?
I always knew I wanted to go into business. Being around my dad influenced me because he's an entrepreneur in the hospitality industry. My classes at Bentley on entrepreneurship excited me and empowered me to do it.
What qualities do you think successful entrepreneurs possess?
I'm a forward-looking person. I try to focus on the now, but am always thinking about what's next, too. I'm a planner. I plan out my days to the minute. I make lists. I'm also competitive and like a good challenge. Fast-paced work is exciting to me. I thrive on lots of challenges and lots of opportunities.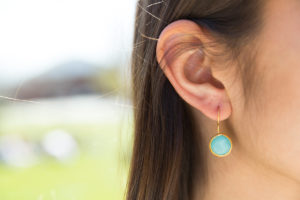 What are your plans for after you graduate? What kind of career do you see yourself having?
I haven't exactly planned it out, but will be going back to California and finding a job there — probably in the tech industry.
So, what's next for your business?
It's too soon to tell! If it continues the way it's going, I'll keep up with it. If not, I'll find ways to improve it.
What's the best piece of advice you've received as you've developed your business?
Keep going at it and be persistent. People will always warn you about the roadblocks and there will always be people who tell you no, it can't be done. Keep an open mind. There's an opportunity to learn if you have a positive attitude and keep your head up. Just keep going.
What advice do you have for other young people, especially college students, who want to become entrepreneurs?
Be brave and go for it. When I was leading up to this business, I kept thinking I wasn't ready — but you never feel ready. You just have to plunge in.
---
Last semester, I took an entrepreneurship class called New Venture Planning and Financing, where we had to come up with a business idea and funding. The professor talked a lot about setting our sights on what's next, and it got me to thinking: How can I make this happen?
 I decided to go back to Turkey to choose jewelry to sell. I focused on less expensive materials to create an affordable, young-looking product. My website targets young consumers because I understand the youth market and their love for this funky type of jewelry.
 That's how I came up with the idea for Bazaar Box — it was a combination of my professor's coaching and my background.