By Emily Larson '20
The great academics and close proximity to Boston were just a few of the factors that drew Allison Criscenzo '17 to Bentley University. Unlike many Bentley students who yearn for a big corporate job, however, Criscenzo has always dreamed of working for a nonprofit.
Criscenzo, a senior majoring in Managerial Economics and Ethics and Social Responsibility, spent this past summer working at the St. Francis House homeless shelter. Located on Boylston Street in the heart of Boston, the St. Francis House is the largest day shelter in Massachusetts, and takes in 400 to 500 individuals a day. Criscenzo landed this opportunity through Bentley's Ferrera Fellowship, a program established in honor of former Bentley law professor Gerald Ferrera. Through the fellowship, two students each year are given stipends to pursue work at nonprofit organizations in the U.S. and abroad.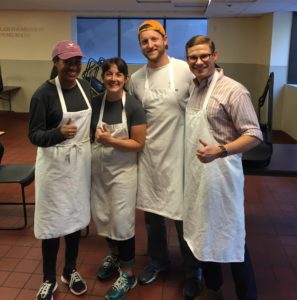 The St. Francis House provides homeless people with two hot meals a day, clothing, showers, phone and computer access, art and music therapy, counseling, and vocational rehabilitation programs. After spending much of her time at a desk learning the business aspects of the organization, Criscenzo quickly found herself drawn to the hustle and bustle of the daily operations of the house. To become more hands-on, Criscenzo immersed herself in volunteering in the clothing closet and the kitchen of the house.
"I really liked the person-to-person contact and the programming," Criscenzo explained. "Their stories were incredible."
Criscenzo always knew she wanted to work in the nonprofit sector. When she was being interviewed by Ferrera for acceptance into the program, he asked, "Why do you want to be a part of this program?" Her reply: "It's my dream job."
Through her experiences and the skills she learned working at the St. Francis House, Criscenzo feels comfortable working in the nonprofit sector and can see herself with a career in the field.
Gaining Confidence Through Service
"Now I feel pretty confident working for a nonprofit in the Boston area," she says. "While my work behind the scenes was extremely educational, the time I enjoyed most was the direct service, and I think that is important to know moving forward toward my career."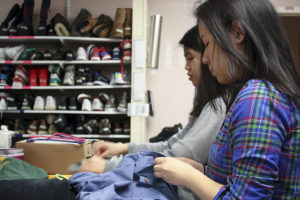 Interning at the St. Francis House taught Criscenzo the soft skills necessary for interacting with others on such a vulnerable level, as well as the hard skills that are essential in maintaining a nonprofit organization. Starting out by drafting a business plan for the organization, Criscenzo focused on developing its social enterprise aspects. She also learned how to build a network, how to conduct business research, and how to effectively manage and collaborate on projects.
"The Ferrera Fellowship helped me take my Bentley education to do great things — and it's been great for my résumé" says Criscenzo.  "I had the opportunity to contribute to a social business enterprise that will change the lives of many people. That's an experience I never would have gotten in the classroom."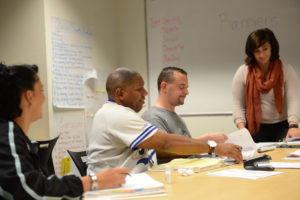 Back on campus for her senior year, Criscenzo is urging her classmates to make a difference in the community by donating food or clothes to a local shelter, or by volunteering themselves. "It feels great to clean out your closet and give to those less fortunate, and volunteering can be a lot of fun!"
For Criscenzo, working at the St. Francis House has impacted more than just her career path.
"I try to stay positive in my daily life," she says. "I remember the people I worked with and it helps me keep perspective."
Click here to learn more about the St. Francis House.
Emily Larson is a freshman Marketing major from North Smithfield, Rhode Island.