By Emily Larson '20
Dresses to Dreams is a fast-growing on-campus organization dedicated to providing free prom dresses to underprivileged teenagers in the Greater Boston area. For the second time, the Dresses to Dreams event was sponsored by the Bentley University Center for Women and Business. This year, about 700 dresses, mostly from the organization Gifts to Give and others from individuals and local boutiques, were donated for girls to go home with.
The Event
This year's event was on Saturday, February 18, at the LaCava Conference Center. One hundred and fifty girls attended with friends, moms, and mentors. The balconies of the Executive Dining Room were full of excited girls ready to choose a prom dress. Lowell High School sent a bus of students to attend the event, and Dresses to Dreams funded transportation for other girls to Bentley from various public transit stops.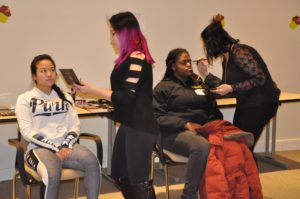 A light breakfast was provided for the attendees as they anxiously awaited the beginning of their exciting day. Students from Toni & Guy also donated their time, doing hair and makeup tutorials for the girls to mimic on their prom days.
Inspiring Young Women
Returning again this year was speaker Claudette Blot, STEP director and program coordinator of the Multicultural Center at Bentley. Her signature presentation, "Beautiful Betty," inspires girls to express their inner beauty and have self-confidence. One of Blot's crowd favorites is having every girl in the room look into a mirror at herself and say something positive that they see within themselves.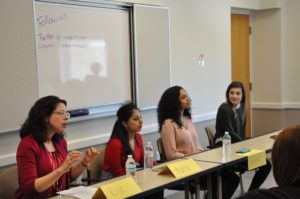 Blot's speech even inspired one of the girls to write her college admissions essay about Dresses to Dreams and the impact the talk had on her life. For the first time, the event also featured a panel of women sharing advice and personal experiences regarding the college process and career life. The panelists included Professor Liz Brown, and students Jackie Emmons '19, Roma Gujarathi '19, and Valerie Perez '19.
The Big Moment
After lunch — donated both by Chateau and personally by Bentley President Gloria Larson — the last hoorah of the day included a fashion show of girls who wished to show off their prom dress. Music played as the girls posed and laughed in their new gowns, and family, friends, and 27 volunteers smiled, cheered them on, and took photos. Upcoming president for the 2017-2018 academic year Abigail Eisner '18 admitted that the fashion show is her favorite part of the day.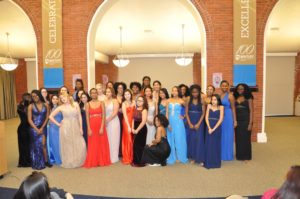 "You get to see the impact you're making and how happy they are," Eisner said. "They're so confident strutting their stuff on the stage."
Future Programming
The Dresses to Dreams e-board is always looking to expand and improve the organization both on-campus and off. Some of outgoing president Amanda McCormick '17 and Eisner's ideas include setting up a mentorship program in which Dresses to Dreams members help high school upperclassmen with college essays, picking classes, and other guidance about college readiness and women's empowerment.
McCormick confirms that the organization is "toying with ideas of other ways to work with girls throughout the year whether it's mentoring or programming with the girls." Additionally, the e-board is looking in to starting a new committee for fundraising, and conducting more events on campus to further promote the organization to Bentley students. The club would like to initiate some programming around women's empowerment rather than focusing the organization on prom dresses.
Skill Building for Bentley Students
Being a part of Dresses to Dreams is not only an honorable philanthropic cause, but it also helps members polish their business and life skills. Eisner acknowledged that through being a member of Dresses to Dreams she has learned about event planning, quick problem solving skills, and improving for the future.
"It's given me a sense of entrepreneurship," she said. "I feel like this is my baby. Watching it grow so much you get the sense that I want to keep seeing this grow."
Lifelong Impact
Dresses to Dreams has undoubtedly left positive marks on participants, as many girls return or recommend it to their friends and family.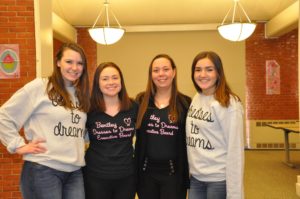 "Dresses to Dreams gives them a way to get an outlet from high school," said Eisner. "It's a positive space where they can meet girls that are dealing with the same things that they are. It's a great way to empower them."
Many of them begin the day very timid and shy, and once they are dressed with their hair, makeup, and gown, they easily come out of their shells.
"It becomes really clear in the moment what the girls have gone through throughout the day, getting their makeup and dresses really brings out their confidence," said McCormick.
Emily Larson '20 is a Marketing major from North Smithfield, Rhode Island.