Cancer Fundraiser Teaches Lessons Beyond Academics
By Frank Elenio '19
A profound collegiate experience should have the ability to teach lessons both inside and outside of the classroom. Bentley University's idea of seeing our school as a "living-learning community" has frequently proved why a well-rounded college education is necessary for success in the 21st century.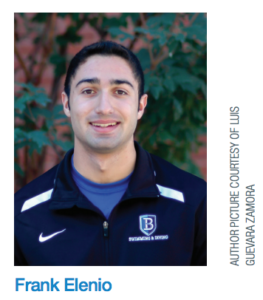 As a current Bentley sophomore, I have already seen how our school culture, one that is built on many honorable pillars, excels at fostering personal growth with a keen awareness on improving the surrounding community.
Among one of the many instances in which Bentley and the Bentley Honors Program has shone was during 2016's Relay for Life. My relationship with this event goes back to sophomore year in high school. I was asked to participate, but facing a very rigorous final exam season, initially had no interest in doing so. I eventually gave in and, minutes after arriving, quickly forgot the stresses that were around me, embraced the heartwarming — and heart-wrenching — moments of the event, and became a huge supporter.
Now, not only do I serve on the E-Board of Colleges Against Cancer, I am also the service coordinator for the Bentley Student Honors Council. As the latter, I am tasked with finding and encouraging opportunities for honors students to participate in meaningful community service. Upon being appointed to the position, I immediately thought of Relay for Life.
GIVING SOMETHING BACK
Cancer is something that has affected most if not all of us, and its effect is apparent even in a community as diverse as the Bentley Honors Program. I knew this would be a project where the Honors Program could give back, and serve our community well. Balancing both my passion and nervousness, I proudly went forward with my first project as service coordinator: creating a Relay for Life team for the Bentley Honors Program.
Many are not aware of the challenges involved in creating a brand new relay team. Since most relay teams are built as traditions by sports teams, local organizations, or close groups of friends, building a team for nearly 400 honors students who do not all know each other initially seemed daunting. What the naive freshman in me overlooked at the time was the constant immense support emanating from the honors community.
When I first presented the idea to the Student Honors Council, it was given a strong reception and unwavering backing. After commissioning the project and beginning promotions, it received equal support from honors students and faculty alike! One professor even responded minutes after the informational email was sent, inquiring about how to support both the organization and our efforts toward creating a Honors Program team.
Furthermore, when the residents of Slade Hall's Honors Floor became aware of the initiative, they too expressed resolute support, making it a point to assist me while tabling outside of the dining hall and classrooms to spread the word. The team was off to a very optimistic start, and it only got stronger after its launch.
FROM CAREFUL OPTIMISM TO SUCCESS
We started organizing very early into the fall 2015 semester, and very far away from the actual event itself. Taking advantage of how early the process had begun, I proceeded to market our team with an assortment of carefulness, optimism and passion to ensure success. Fast forward to April 22, 2016, the night of Relay for Life. We had built a team that placed in the top 10 in terms of participation and fourth of 51 teams in total fundraising. Even an alumnus 10 years my senior generously donated, as did students and faculty campus wide.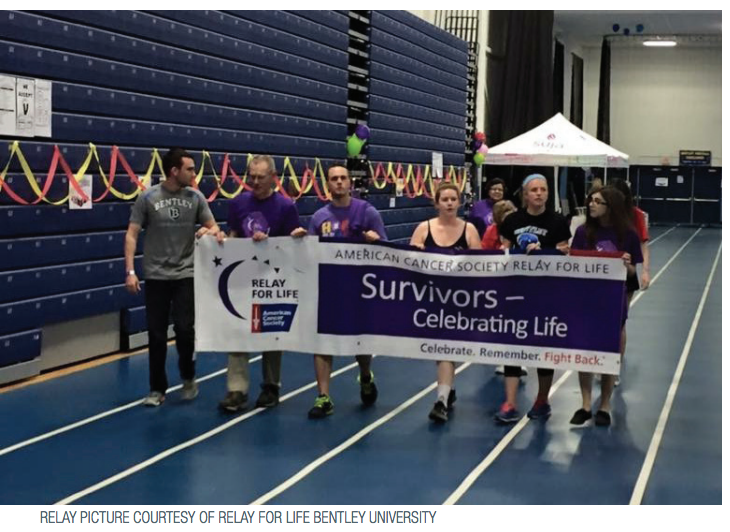 In addition, our team included three "virtual survivors," remote participants who are signed up for the event by team members who relay to honor their specific loved ones. More important, we had also built a team that united students, families, faculty, and alumni alike. The endless generosity and compassion of the honors community were on full display that night, and witnessing firsthand the impact we were able to make was inspirational.
As always, Relay for Life was able to make not only a significant contribution to the local community, but a contribution so successful we will be putting forth a team for the event every year. No Relay for Life event is ever successful without the generous dedication and support of its participants and donors, which for the first time in recent Relay for Life of Bentley history, involved a team specially crafted by the Honors Program. As another testament to the Honors Program's constant outpouring of community service and outreach, Relay for Life will go down as another successful opportunity for Honors Program students to get involved.
---
Frank Elenio '19 is an Accounting major, and service coordinator for the Honors Program.

A version of this article first appeared in the Fall 2016 issue of Columnas, the Bentley University honors program newsletter.