Name: Corey Werner '17
Hometown: Westport, Conn.
Major: Marketing
Internship: Business Development Intern, the Shark Group
Where: New York
When: April to August 2016
Read more student profiles in our interesting internships series.
What were your main responsibilities as an intern at Shark Group?
My main responsibility was assisting the Business Development team at Shark Group, a brand management and consulting services organization. This encompassed a wide array of tasks, including:
Social media content creation for Shark Tank products and other clients.
Prospecting inquires to develop new leads for the Shark Group. This included searching for entrepreneurs and businesses that were seeking consulting for branding, marketing, social media, product development, talent management, and more.
Creating lists and sending products for celebrity influencers in target demographics.
Developing marketing plans for Shark Tank products and other branches of the company.
Who did you work with at the company?
I was one of three interns who worked with the head of business development and the business development manager. I also did work for other departments as needed.
What was your first day like?
As a lifetime fan of the show Shark Tank, my first day was very surreal. When I entered the office I remember seeing awesome artwork of the sharks hanging around the perimeter of the workspace. The back wall of the office space was a giant screen with an episode of Shark Tank playing as the background. Across the office I recognized many of the products Daymond John had invested in throughout the eight seasons of the show.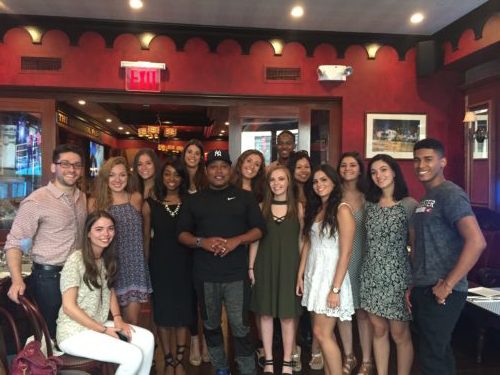 The interns met for an orientation in the "war room," the main meeting room, outfitted with military paraphernalia including a rubber-band machine gun. Each of us had Daymond's new book, "The Power of Broke," in front of us to read throughout the internship. Members of the office came to introduce themselves and talk about their responsibilities within the company.
What's one word you'd use to describe the company?
Ambitious.
The Shark Group is not an organization that is content with the status quo. The company is always looking forward to new opportunities for growth and success.
How has going to Bentley helped you with your internship?
Bentley has helped with my internship from beginning to end. Bentley's Office of Career Services helped me tremendously with my interviewing and networking skills. Additionally, the go-getting culture at Bentley pushed me to work hard to build my résumé and strive for competitive internships like this one.
What was the interview process like?
The process consisted of applying and getting asked to set up a time to interview. Since I was abroad during the interview process, I had to find a time to skype with the head of business development while I was traveling throughout Europe. I ended up interviewing at a café in Barcelona.
What has been your most memorable experience interning at Shark Group?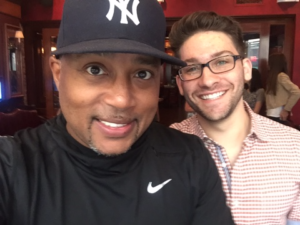 My most memorable experiences were mainly my opportunities to get to know Daymond. Toward the end of the internship, we were given the opportunity to have lunch with Daymond. He gave us amazing advice on our future careers/lives as well as answered all our questions about Shark Tank and his life.
What was the most challenging aspect of your internship?
The most challenging aspect of my internship was adjusting to the level of work at Shark Group. I was given multiple projects at a time which tested my time management skills. Moreover, these projects would have different levels of urgency and importance which added to the difficulty of managing the workload.
How did this internship influence your plans for the future (or future internships or careers)?
This internship has helped me confirm my interest in marketing, and broaden my scope of employment. I was able to learn about many opportunities available in the marketing consulting industry that I hadn't known about before.
What advice would you give to someone looking for an internship?
My advice to someone looking for an internship is to not be "just another applicant." We all have a tendency to believe our application will speak for itself, but in almost all cases it will not. Make sure you do something to set yourself apart. Whether it's through networking, visiting the headquarters, or making connections within the company, it's important to be different than the others.
About The Shark Group
The Shark Group offers brand management consulting services to transform businesses into iconic brands. Founded by Daymond John, the Shark Group utilizes live entertainment, product placement, and celebrities in order to turn brands into a lifestyle.