Name: Javier Monterrosa '17
Hometown: El Salvador
Major: Marketing
Internship: Marketing Sales and Strategic Partnerships Intern at Drizly
Where: Boston
When: June-August 2016; 40 hours/week
Read more student profiles in our interesting internships series.
THE INTERNSHIP
What are your main responsibilities as an intern at Drizly?
Drizly is a service that delivers wine, beer or liquor to your door (in under an hour). I'm one of six other interns, all working in different functions of the company. My focus is on monetization, and some of the things I work on include:
Creating sales and social engagement reports for campaigns running on Drizly's website
Managing creative requests from clients
Assisting with migration to new CMR platform
Analyzing competitive landscape to maintain leadership in the market
Having fun! I brag about the cool swag from the company
What was your first day like at Drizly?
My first day was actually different than any other first day I've had in other companies — in a positive way of course!
The dynamics of a start-up are completely different, so from day one it was all hands-on. I had four meetings right off the bat and tasks assigned to me right away. As a result, training was more of a day-by-day learning process, getting my hands dirty. Whenever I had questions, I would ask right-away.
What's one word you'd use to describe Drizly?
Dynamic.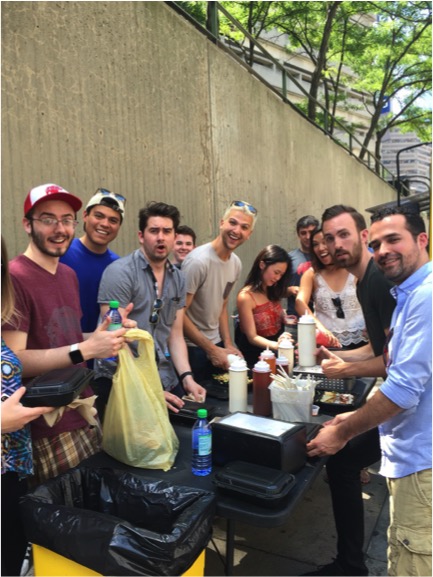 Each day is different and you can never predict what's coming your way. Days are a combination of meetings, work, conversations, discussions, work, email, work, more meetings, discussions, work, etc. (and not in the same order every day).
Did you participate in any fun activities with Drizly?
Of course! We had an outing to a local brewery called "Down East," where we were all able to get a tasting of the brewery's hard apple ciders, while learning about the production process and its history.
How have previous internships prepared your for this experience?

I have actually had my fair share of internships — five of them to be exact! I have come to learn that every business experience is a learning opportunity and each and every one of my internships have taught me different lessons.
Find out how going to Bentley has impacted Javier's life.
THE APPLICATION PROCESS
Why were you interested in this internship opportunity?
There were two aspects about Drizly that caught my attention. First was the fact it's a startup and I've always been intrigued by them. I wanted to learn as much as I could about how these type of companies are run and how their dynamics differ from a more corporate company.
Second, Drizly is a unique tech company with its own proprietary software and I have wanted to venture into this type of company for a while, as technologies that make life easier have always being among my interests.
What was the interview process like?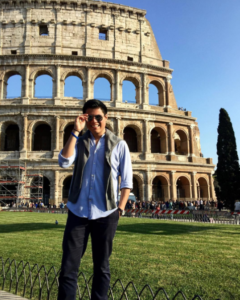 Unlike the typical in-person interviews, my interviews were all on Skype, since I was studying abroad in Rome! This meant that I had to consider different variables when it came to deciding on interview times. However, despite the not-so-good Internet connection in my apartment and the time difference (six hours), I managed to go through two rounds of interviews and got the internship.
Read more about Javier's study abroad experience.
THE EXPERIENCE
What was your most memorable experience interning at Drizly?
Knowing that every person in my team and other teams were always willing to help, regardless of the time of day. The teamwork spirit was always present and this is something that motivated me to do my best job every day.
How did this internship influence your plans for the future?
My internship helped me decide the career path I want to pursue: account management. I enjoyed learning about the responsibilities associated with the role and how these managers get to interact with other companies in order to ultimately launch projects together.
What advice would you give to someone looking for an internship at Drizly?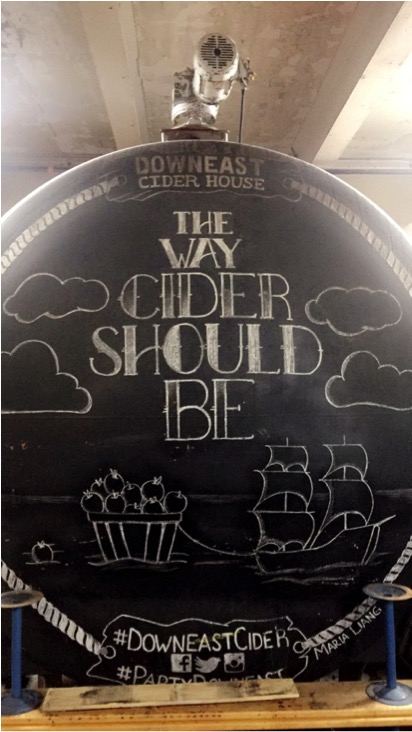 Don't be afraid to talk to anyone at Drizly — either about their role, their careers or if you have any questions. Every person at the company has an interesting background and life story, and this diversity enriches the experience of working with them.
Be prepared to learn several terms associated with e-commerce and the liquor industry. (And by several I mean a ton!) After knowing what each term and their abbreviations mean, you will be good to go.
---
Does this sound like a great job? Learn about some of the many Bentley alumni who are succeeding in the beverage industry.