Name: Lauren Machado '17
Hometown: Braintree, MA
Major: Marketing
Internship: Corporate Sales Intern at JetBlue Airways Corp.
Where: Boston and Long Island City, NY
When: May 2016 to May 2017; 40-45 hours/week during the summer, 20 hours/week during the school year (depending on travel)
Read more student profiles in our interesting internships series.
---
THE INTERNSHIP:
What are your main responsibilities as an intern at JetBlue?
I have numerous responsibilities working for JetBlue. Everyday is something new. I am the only current corporate sales intern for JetBlue, and my main focus area is helping my two amazing sales managers in the Northeast region (MA, CT, RI, NH, VT) as well as Ohio, Michigan and the Chicago area. But I also assist the three other sales managers across the country with various tasks.
Lots of traveling, assisting at corporate meetings with clients.
Attending travel fairs to promote JetBlue's amazing products
Event planning
Creating and developing a corporate newsletter for clients
Assisting clients with corporate travel
Working closely with JetBlue's branding team and customer rewards team
Describe a typical day at your internship.
There is never a typical day for me. I am either at Logan Airport or traveling around the Boston area or flying to a client's corporate office for a travel fair. There is something new every day.
I think that's why I love it so much. I'm not sitting at a desk for 40 hours a week. I'm always doing something different and learning about this incredible industry.
What was your first day like?
My first day was nerve-racking! My office is at Logan International Airport, and there are a lot of security measures I have to go through to get to my desk. I had to do specific MassDOT trainings to be allowed access to the airport gate areas to get to my office.
My second day of work was a whirlwind. I flew from Boston to JFK airport in New York City to attend our Long Island City Support Center monthly corporate sales meeting. From New York I flew to Orlando, Florida, for my JetBlue Orientation.
JetBlue has an amazing orientation that all crewmembers go to. At orientation we learn everything about JetBlue from the beginning to present. We learn about all the different departments, and get to meet and listen to the CEO and other VPs.
It was truly amazing to see the dedication the highest people in the company have to teaching new crewmembers about everything JetBlue. It was a crazy first week, but I knew immediately JetBlue was exactly where I wanted to be.
What was the most interesting project you worked on?
Creating a corporate newsletter to send to all of JetBlue's corporate clients. I basically started from a blank publisher document and created the whole newsletter. It was the first major project I had as an intern. I loved it because I got to use my marketing and sales background, as well as my love for design, to create an informative newsletter.
What's one word you'd use to describe JetBlue?
Passionate.
Everything JetBlue does is done with passion and care. From customers to crew members.
The amount of philanthropy work JetBlue does is something that drew me immediately to the company. They have so many programs to protect the people and places that they serve.

How has going to Bentley helped with your internship?
I feel like every class I've taken at Bentley has really helped me prepare for this internship — especially my eMarketing class and IT 101. In eMarketing, I actually did a project on overhauling JetBlue's social media marketing. It definitely got me interested in the company.
How have previous internships prepared you for this experience?
Before this, I was a business development intern at Consolidated Concepts, which helps multi-unit restaurants with supply chain solutions. They prepared me for the JetBlue internship with numerous hours of Salesforce training, as well as learning how to stay organized and prioritize tasks.
THE APPLICATION PROCESS:
How did you find out about this internship opportunity?
My RA, Anish Joshi '16, interned with JetBlue and would always talk to me about how amazing the company is. I basically stalked their internship openings for three months, waiting for something to pop up in the marketing/sales area.
Why were you interested in it?
I never realized how interested I would be in the airline industry — I've always wanted to go into sports marketing. But the more research I did on JetBlue, the more I became interested in the culture of the company, as well as the competiveness of the airline industry.

What was the application/interview process like?
The people team at JetBlue (what they call HR) is probably one of the best in the country!
The whole process lasted two weeks. One week, I applied online and had a phone screening. The following week I went in to Logan Airport, where I met two of the sales managers (who are now my bosses) for an interview. In addition, I had a Skype interview with the people department.
JetBlue was very specific in the type of person they were looking for, so their questions were ones I hadn't heard before in interviews. They focused heavily on my character and work ethic, as well as my past experience. But it made me think quickly on my feet and I'm so happy they saw enough potential in me to hire me.
How did you prepare for the interview?
I did a lot of research. I learned the ins and outs of the industry, as well as everything about JetBlue from their CEO and VPs to the philanthropy work they're involved in.
THE EXPERIENCE:
What has been your most memorable experience interning at JetBlue?
My most memorable experience was probably attending Buchholz Bowl, as well as helping with the Viscardi School flight.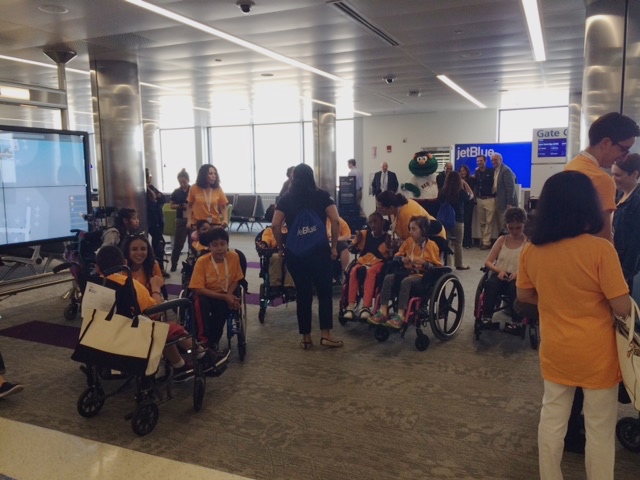 The Buchholz Bowl was a fundraiser for the Clay Buchholz Foundation to provide health, educational and sports opportunities to improve the lives of children in need. It was an incredible night. We not only got to meet and bowl alongside Red Sox players, but also we hung out with the kids the foundation is helping.
I met two amazing kids that night that made me appreciate so much. It was wonderful to see these kids have the biggest smiles on their faces and forget about all their hardships.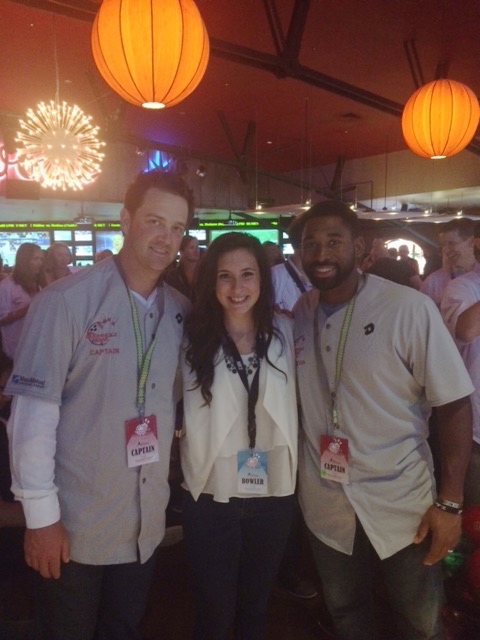 The Viscardi Center is a network of nonprofit organizations that provides services that educate, employ and empower people with disabilities. JetBlue hosted sixth and seventh graders and high schoolers from the Viscardi School, participating in the school's aviation curriculum to help them get an exclusive airport and travel experience. Students, some of whom had never traveled by air, had the opportunity to check-in at the airport, fly to Boston, enjoy lunch and then fly back to New York.
Hanging out with the kids for an afternoon was an awesome experience. This really did show me the passion JetBlue has for its customers.
What was the most challenging aspect of your internship?
The most challenging part of my internship so far has been staying organized and prioritizing tasks. Also, keeping confidence up. I am a very outgoing person, but I do have a tendency to be shy. In the sales world there is no such thing as being shy. I've grown so much in just in three months of working at JetBlue — I am already strengthening my confidence to talk to executives at some of the most powerful companies in the country.
Was there anything that surprised you about your experience?
Everything about the airline industry surprises me!
The endless day in and day out work that goes on is simply incredible. It takes a team effort from all the departments to be successful. JetBlue is a fairly new company (18 years old), and the amount of success it already has seen is phenomenal.
How did this internship influence your plans for the future?
I never imagined going into the airline industry. But now working for JetBlue, it is a company that I would love to stay with. The care they have for their crewmembers goes along way, the culture and the work environment is something I love.
THE ADVICE:
What is one thing you wished you had known before you started the internship?
I wish I knew more about the industry. I was clueless when flying. I would just pick the cheapest flight that would get me there in the shortest amount of time. The airline industry is so interesting. In just three short months, I could probably tell you anything about an Airbus 321.
What advice would you give to someone looking for an internship at this company?
You have to be passionate about what you're doing when you work for JetBlue.
Do your research. There is so much more to JetBlue than airplanes, flight attendants and pilots. It's such a competitive industry with so many little details. Don't be afraid to ask questions.