Bentley's Honors Program taught Amanda Pine '17 new ways to learn. A senior Economics-Finance major (with minors in Law and Management) from Suffield, Connecticut, Amanda says the Honors Program's academic challenge pushed her to discover better ways to manage her time and work as part of a team.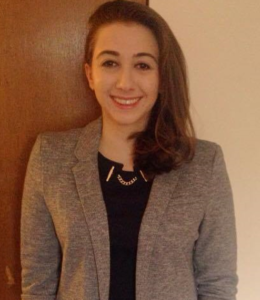 She's put those skills to work during her four years at Bentley. Amanda serves as a peer academic adviser in Bentley's Office of Academic Services, helping fellow students plan out their academic schedules and overcome any difficulties they might be having meeting their graduation requirements.
In addition, she's a member of Bentley's Fed Challenge and Moot Court teams, the Bentley Speech and Debate Society, and the Adamian Law Club. This past summer, she worked as a financial management leadership development intern at Travelers.
We sat down with Amanda to get her thoughts on the Honors Program and how it's contributed to her Bentley experience.
How has the increased academic challenge of the Honors Program benefited you?
The increased academic challenge of the Honors Program has definitely allowed me to learn a lot about my learning style and how to work well in a team. Since honors classes often have harder material and a more demanding work load, I had to figure out what study methods worked most effectively for me and manage my time well. Additionally, while many Bentley classes have teamwork, honors classes tend to be even more collaborative than the average class, so I really learned how to complete challenging work in a team environment.
What do you like most about the honors course work? What are the advantages to having smaller class sizes?
I like how honors courses require me to think critically about issues and topics that I might otherwise have never thought about. The smaller class sizes are beneficial too, since you get to know your classmates better than you would in a larger class. You also get to know your professors really well, and they tend to have an open door policy. Going to office hours is a great way to get to know professors even better, and to get the maximum benefit out of courses.
How has the Honors Program instilled a sense of community and friendship for you? Have you developed relationships with any alumni or faculty through honors?
Many of my closest friends at Bentley are also in the Honors Program, some of whom I met at Orientation, since there were honors-specific Orientation groups. The Honors Program puts on a ton of fun events, such as ice cream socials, outings to see shows in Boston, and networking dinners. Attending these events with my classmates and friends has really instilled a sense of community among Honors Program members. These events have also allowed me to strengthen my relationship with faculty members, since they are often present at these functions.
What do you like about the professors that teach your honors classes?
I like how approachable Honors Programs professors are. Many of them are willing to meet with you outside of class, both in and outside of office hours. Additionally, most honors courses I have taken are very discussion-based, and you get to have meaningful conversations with your classmates and professors. I feel like I've really gotten to know some of my honors professors well, and they have made my honors class experiences truly special.
Do you think your experience in the Honors Program will contribute to your ability to get a job after graduation/overall career success?

I think my Honors Program experience will definitely contribute to my post-graduation success. My senior capstone project focused on a topic relevant to the field I plan on going into after graduation. The project has already served as a great talking point in interviews, and I have no doubt it will serve as a differentiating factor when I apply for graduate schools and jobs.
Would you recommend joining the Honors Program to someone else? 
I would recommend joining the Honors Program because it has provided me with unique, challenging learning opportunities, as well as a sense of community with honors professors and students. Many of the highlights of my Bentley experience have been because of the Honors Program, and I would certainly choose to join it again if I had to redo my time at Bentley.
Tell us how can we improve this post?