By Liz Hayes '19
Before making the move to college, I kept hearing similar phrases from my family and friends about the importance of getting involved on campus. They encouraged me to get try new activities or sports, and to join clubs. It started to become redundant and I repeatedly ignored the thought.
I was more focused on the transition to college and moving eight hours away to a new setting with all new faces, while leaving many familiar ones behind. From the first week of college, I quickly realized that a big part of this "transition" was getting involved in something that I was passionate about, and to spend time doing what I love.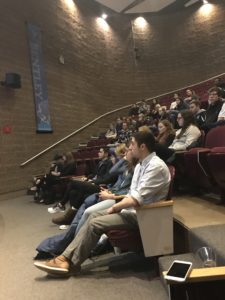 The constant nagging from my family turned out to be beneficial. After attending Bentley's Activity Fair early on in my freshman year and continually seeing posters taped up all around campus, I knew that I had to figure out what clubs I would want to try out in order to help me adjust to the new school year and meet students I hadn't met before.
The Moment Everything Changed
A year before I moved in to the Trees Dorm at Bentley, my dad asked everyone to come down to our living room for a "family meeting." Being a naïve high school senior and living off the last few months before college, I thought to myself that maybe he would be surprising us with a vacation or maybe even a new dog.
I didn't realize the seriousness of the situation until I saw a few tears rolling down my mom's face while she sat next to my dad on the couch. He quietly opened up the conversation by saying, "I don't want you guys to be worried, scared or nervous but . . ."
A million thoughts ran through my head about what could actually be wrong. My father finally told us that, a month prior, he had been diagnosed with prostate cancer. I could see by the look on his face that he was trying to keep himself together and be strong for us. I started to feel everything he told us not to be.
My dad has always been the glue to our family and, even with this diagnosis, he continued trying to do just that. As soon as he told us, I saw a faint tear roll down his face, which led me to break down in to tears and leave the room. I barely understood what this "cancer" thing even meant and I would have never expected that this "family meeting" would turn out to be about something so awful.
Commitment to a Cause
I think that everyone, myself included, always believe, "Oh that won't ever happen to our family" or "I don't have to worry about it." However, when it does, you can never truly be prepared.
My dad's diagnosis made me realize that I wanted to be involved in a club that would help situations similar to my own by providing awareness and education about cancer. Colleges Against Cancer did just that.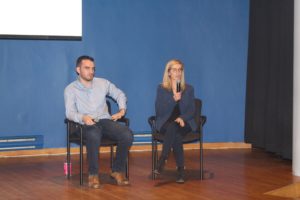 We meet every Monday. Participating in events to raise money for the American Cancer Society ultimately helps me adjust to the fast-paced life of college. It also and allows me to stay focused on my studies and practice the important skill of networking. Having this regular commitment with weekly tasks helps in my adjustment to the busy workload and the balance with my social life.
The 15-40 Connection
Recently, Colleges Against Cancer had the opportunity for a panel of young adult cancer survivors, including a Bentley alum, to speak at the Wilder Pavilion. Their program is called "15-40 Connection," based on the statistic that, in the U.S., eight people between the ages of 15 and 40 are diagnosed with cancer every hour.
Cancer survival rates for high school and college students have not improved since 1975, and the panelists discussed how early detection measures can be one of the best tools to increase this rate. Going in to this event, I didn't really understand what it would be like, but as I left the pavilion I came out more knowledgeable on how we can defeat cancer and ultimately continue saving lives.
Knowing the most common cancer symptom and learning the three steps to early cancer detection were two of the most educational points I took away from this program. I was shocked after hearing that the most common cancer symptom is a subtle and persistent health change that lasts for two weeks or more. The panelists also reinforced the steps to early cancer detection:
Remember what great feels like.
Use the two-week rule.
Share with a doctor.
These simple steps and knowledge of early detection methods can go a long way for prevention. If my dad had detected his cancer just a few months later, he would have had only three years to live. These early detection tools can improve the survival rate and add more to the cancer survivor pool, which now includes my dad, who has been cancer free for two years.
Focus on Health
I think the focus of many college students today is striving to get the best internship, doing well in school, working or socializing. These are all great things, but I think a focus on our own health can sometimes be glanced over or even disregarded. Overall, what I took away from this event is that taking the small amount of time now and then to check up on yourself and how you feel is one of the most important and beneficial things you can do.
Whether it be a small headache or a change in your mood, knowing something is off in your body could potentially save your own life. Saying this may be a bit dramatic, but it just shows you that in our busy Bentley life, taking care of yourself should be up on the list of things to focus on, too.
Liz Hayes is a sophomore majoring in Finance. She's from Buffalo, NY.