By Jackson Le '19
Michael Sam, the first openly gay football player to be drafted to the NFL, recently came to Bentley to share his story and the reception was honestly amazing. I had long respected everything that Michael stands for, so when I found out that he was coming to Bentley, I knew that I was going to attend. Fortunately enough, I had the opportunity to not only hear Michael's story but to do an early meet and greet with him as well.
When Michael entered the Carlton Room in the Dana Athletic Center, he put all the students and faculty there at ease by his approachable and friendly demeanor. He was making jokes, shaking everyone's hands, hugging people and even arm wrestling Bentley's very own Tyler Deresky, from the hockey team. I swear by the end of the night, I had hugged Michael about four times. I don't really know exactly what I had expected him to be like, but in all honesty, I was pleasantly surprised by how much of an "ordinary" guy Michael was. In fact, I almost forgot that Michael was a renowned public figure because he was such a personable guy.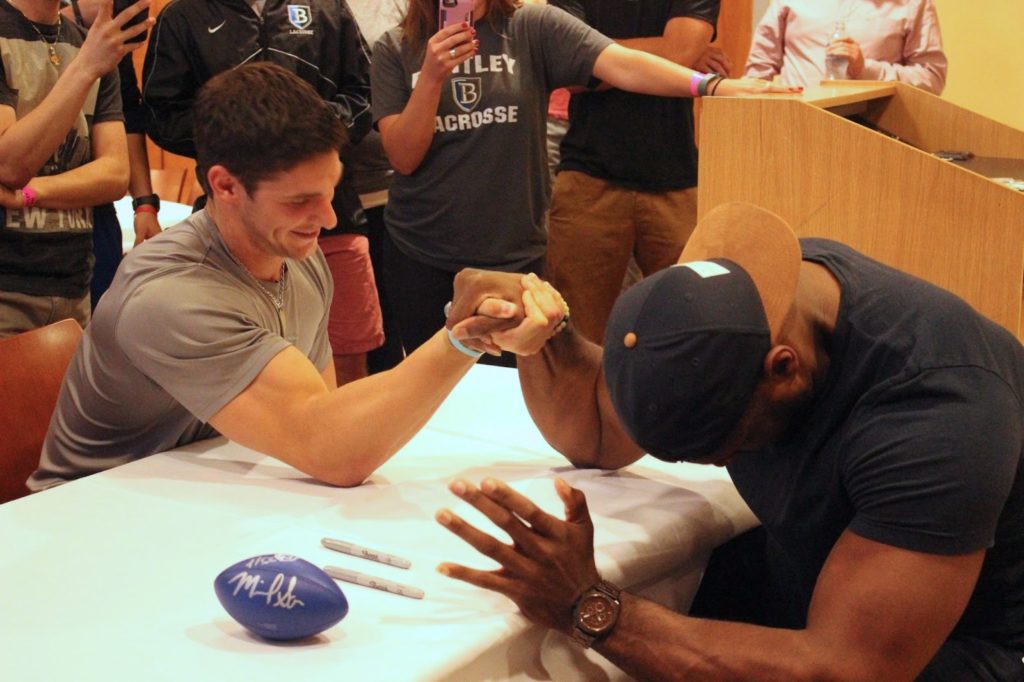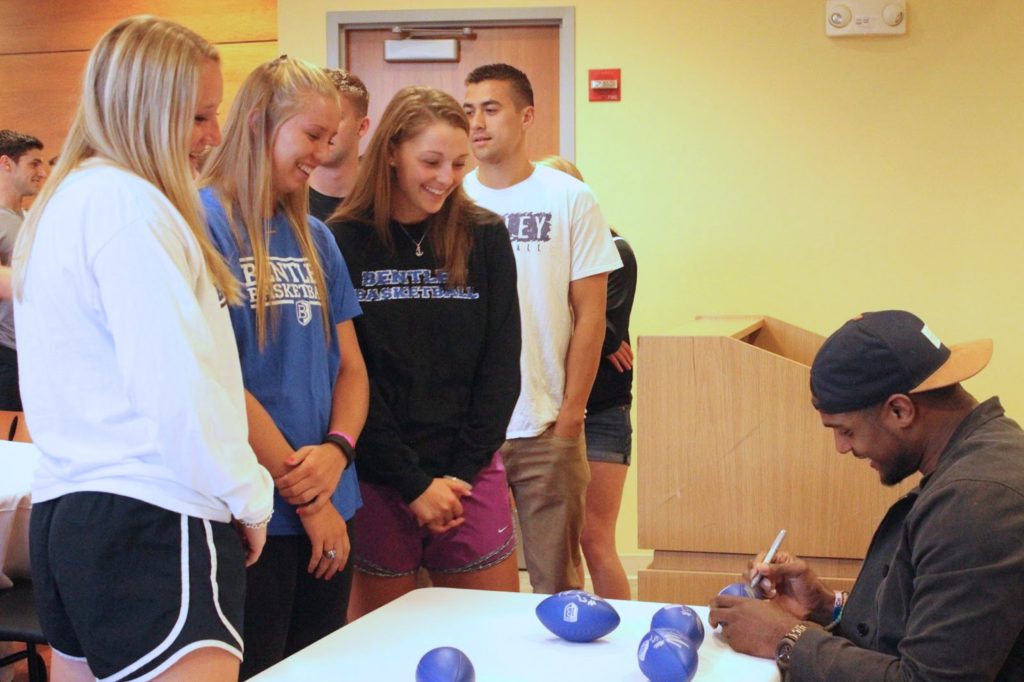 Photos courtesy of Student Programs & Engagement.
Throughout the meet and greet, we got to ask questions, get autographed Bentley foam footballs and just hang out. The questions being asked were light-hearted questions like "How much do you bench?" or "What was your fastest mile time?" But I wanted to know more. So I took it upon myself to ask, "Being a public figure, how do you deal with negativity?" I could feel the tone in the room suddenly shift as Michael looked me straight in the eyes. "I simply just don't really care about what other people have to say," he said. "I just try to live my life."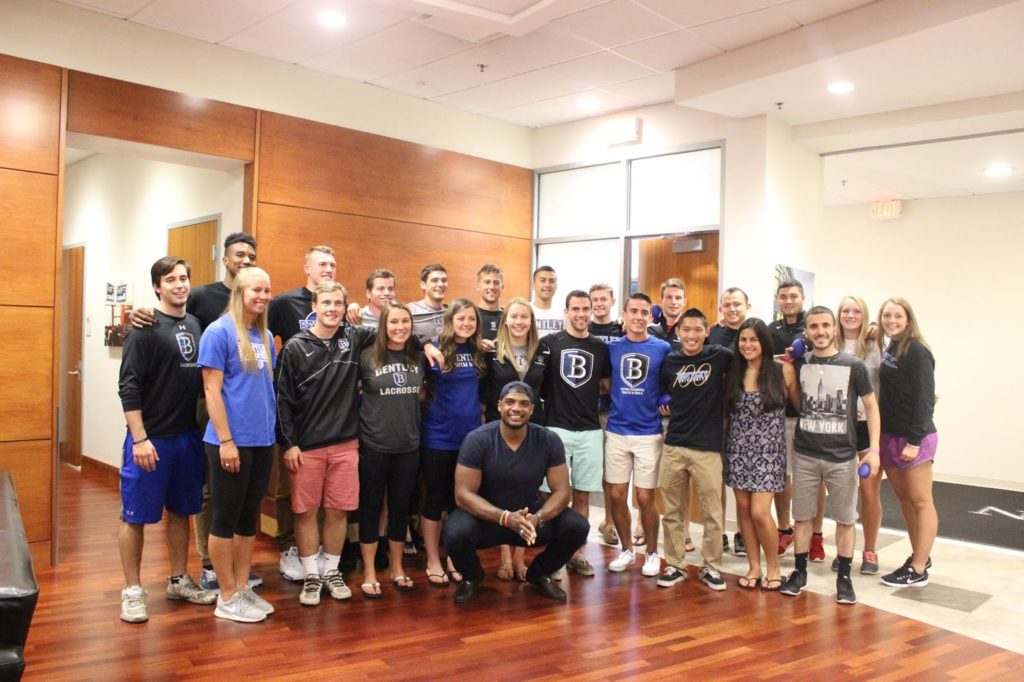 Photo courtesy of Student Programs & Engagement.
MICHAEL'S STORY
Eventually, after a myriad of pictures, it was finally time to go hear Michael's story. From facing family adversities, coming out to his team and the world, being drafted into (and released from) the NFL, and falling in love, Michael's perseverance and personal strength resonated with the crowd of Bentley students. Particularly, it resonated with me because many aspects of Michael's story overlap with mine.
I found myself sitting in the audience reflecting upon my life, my experiences and what had led me to that exact moment. I was inspired to really own all facets of my identity and to not be ashamed of who I am or where I come from.
Michael's process of navigating the coming out process in the public eye was one of the most impactful parts of his story. In fact, the amount of support that filled the audience after Michael said, "My name is Michael Sam, I'm from Hitchcock, Texas, and I'm gay," was reassuring.
Michael talked about coming out to his friends, his football teammates, his family and eventually, the world, and the anxiety around it all.
"One thing I know is that I don't like fake people, but here I was living this lie," he said. "I try to be the voice for people who don't have a voice for themselves."
A LEAP OF FAITH
The defining moment of Michael's life was the part of his story that impacted me the most. He expressed that he "would not change anything for the world." This was because of a phone call he received from a teammate's cousin, who told him that she overcame thoughts of suicide after hearing Michael's coming out story and seeing him embrace life. He had inspired her to embrace who she was and to live her life authentically, and it had left Michael speechless. This resonated with me because I experienced a defining moment in my life this past summer.
This summer, I spent some time traveling up and down the coast of Florida. I experienced a lot of great times, but I also experienced a lot of chaos: I was in Orlando around the time when the Pulse nightclub shootings happened.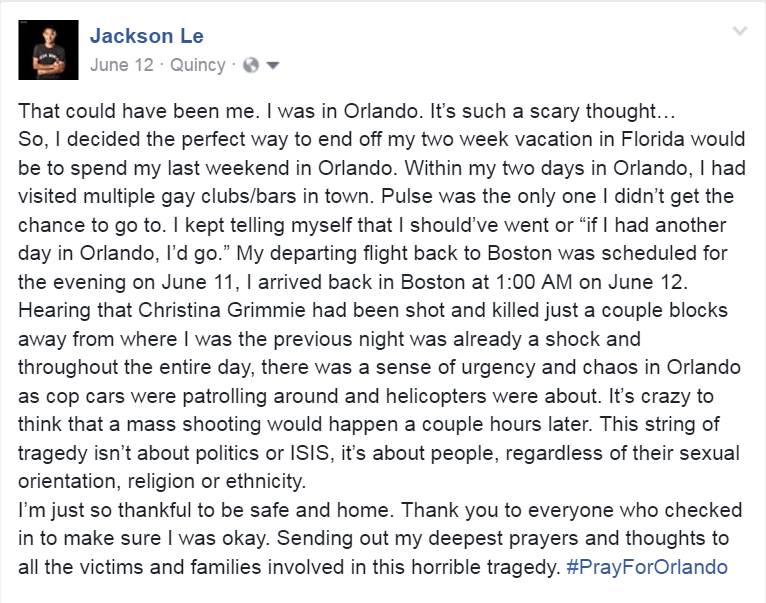 After going through such a traumatic experience in Orlando, I realized that it was important for me to stay true to myself and live my life authentically. I guess I just needed a catalyst and I think I finally found it.
In listening to Michael's story, I've been inspired to adhere to his advice, and take the biggest leap of faith…
My name is Jackson Le, I'm from Quincy, Massachusetts, I'm gay and I'm just an ordinary guy.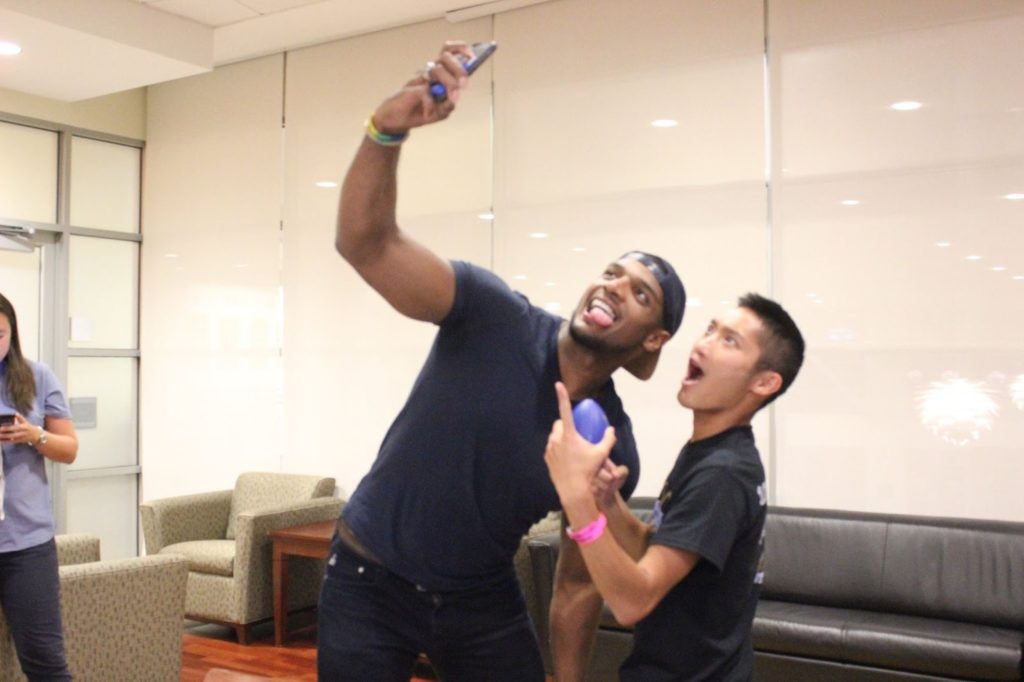 Photo courtesy of Student Programs & Engagement.