By Kristen Walsh
Participating in Bentley's ALANA (African-American, Latino-American, Asian-American, Native American and multicultural) Early Move-In at the start of her first year at Bentley, Kyrsten Arnold '20 was able to not only start her new life early, but to create a network of multicultural faculty members and students.
Two of her ALANA leaders became good friends and resources ("to answer questions about anything"). So when she had the chance to serve as a host for the ALANA Overnight Program, she didn't think twice.
The ALANA Overnight is among a number of programs designed to celebrate diversity at Bentley. Following Bentley's Open House for Admitted Students in April, ALANA students are invited to stay over on campus with a student host, enjoy a feast featuring cultural dishes prepared by various student organizations, and attend special events ranging from a Men's Basketball game to a paint night. The Overnight not only gives prospective students an up-close look at Bentley's campus-wide commitment to inclusiveness, but also the chance to make friends before they're even enrolled.
"There's just an automatic connection between ALANA students," Arnold says. "It's nice to have someone you can relate to because you're both in similar situations being minorities. We talk about everything from our goals, our friends, student clubs I'm thinking of joining. It's awesome to have someone who's looking out for me."
The same kind of connection happened when she hosted a prospective student at the Overnight Program: "We had so much in common, not just being African-American, but having a similar sense of humor and laughing about scenes from our favorite movies. After all of the activities, we ended up hanging out."
The two still keep in contact, especially by responding to each other's stories on Snapchat.
Life as an ALANA student
While Arnold admits that sometimes it's hard being a minority on campus, she says that Bentley makes her feel included nonetheless. "The faculty members at the Multicultural Center are always willing to listen to ALANA students and it is very reassuring knowing that they are there if I have an issue. Generally, the entirety of Bentley's population is very open in accepting other cultures, religions and ethnicities."
She also mentions that many of her friends take advantage of the Multicultural Center, whether it is to do homework or hang out with other minority students and faculty. The center also hosts events geared toward cultural issues, such as a student discussion forum to address questions and concerns about the Muslim travel ban.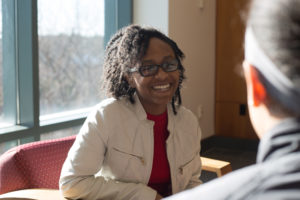 "Two of my friends even went out to dinner and movie with a group of students and one of the faculty members who works in the Multicultural Center," Arnold says. "They build a community of students who become very tight-knit."
Arnold recommends attending an ALANA program before making assumptions about Bentley's campus life. For her, it's made all the difference.
"The ALANA Overnight Program is important because it gives prospective ALANA students that ability to get a closer look at the network of students and faculty who could guide them through their college experience," she says. "I've enjoyed every minute with the ALANA program, and plan on staying involved until graduation."