When not reading balance sheets or studying tax law, members of the Bentley University a cappella group "Off the Clock" spend their time performing for audiences all around the Greater Waltham area. The student-run group has come a long way since their founding in March 2010, winning their first-ever organized competition this year at Worcester Polytechnic Institute (WPI).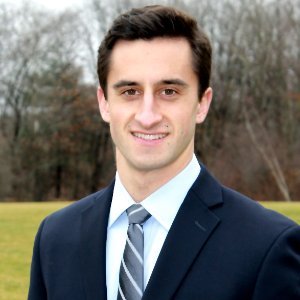 Off the Clock allows members an opportunity to share their love for music with others. "Music gives you a way to express yourself, your energy. There's no way to do that other than through music for people like me," says current club president Eric Donovan '17, who is double majoring in Finance and Liberal Studies (concentrating in Quantitative Perspectives).
A Passion for Music
Students may come to Bentley for a business degree, but their interests outside the classroom are extremely varied. Off the Clock is just one of more than 100 student organizations students can join.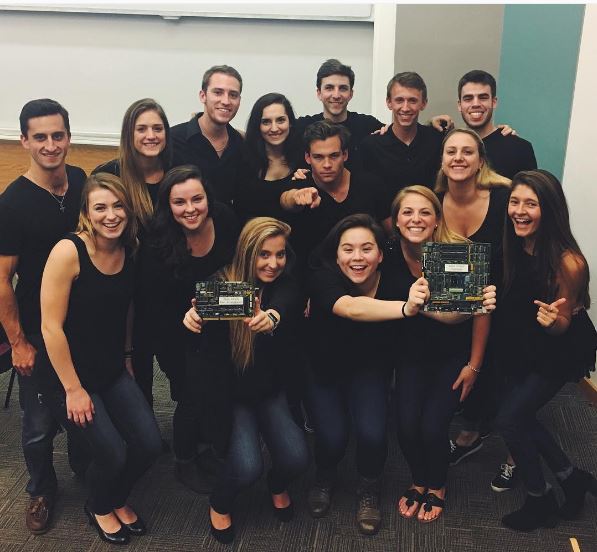 Donovan looks forward to practice each week as a way to express his creative side. Music has always been part of his life. He began playing the drums in the third grade and joined singing groups in high school. Music ran in his family; his grandfather was even a touring jazz clarinetist.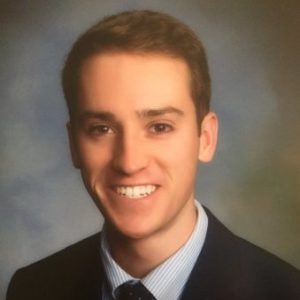 His predecessor, Management major Ian Thompson '16, similarly got involved in the arts at a young age, forming an a cappella group with his friends in middle school. Both Eric and Ian brought their love of music to Bentley, serving as consecutive presidents of Off the Clock (and living as roommates for three years).
Thompson was elected president his sophomore year after serving as the director of events and marketing. When he first joined, it was a time of growth for the group. Then called Masters of Bentley A Cappella (the MBAs), it wasn't well-known on campus. Thompson wanted to see them grow and become the best a cappella group they could. Though still an underclassman, he shared his vision for the group's success and was elected president.
Today, the group is celebrated around Bentley's campus and in the a cappella world.
Last year they attended their first organized competition: Open Circuit at Worcester Polytechnic Institute. Off the Clock won and now are hoping to participate in additional competitions, such as the International Championship of Collegiate A Cappella (ICCAs) — the a cappella competition featured in Pitch Perfect.
Watch their performance of Chicken Fried at Open Circuit:
Creating a Music Family
Antonio Willis-Berry, the assistant director of housing operations in residential life at Bentley, has only been the group's official staff adviser for one year, but is already a core part of the team.
He describes himself a "music geek" in high school, producing music and playing multiple instruments. In college he got involved in a cappella as a music director. Today, he continues to share his love of music through gigs in Boston and by working with Off the Clock.
"Everyone just assumes that business students don't have much personality, but they do" he says, "It's really cool to see them in a different light, enjoying themselves and having fun."
Willis-Berry does his best to create a family environment for the group, and the members feel comfortable approaching him for help in anything from music to academics to relationships. He says he wants to "be present in their lives — not just in a musical way, but as a confidant, as an adviser."
Group members see themselves as family, with alumni still getting together and members frequently staying after rehearsal to talk.
Even after only being in the group for one year, current Director of Events and Marketing Zoë Vautrin '19 recognizes the bond among members. "Music just brings a whole new level of connection between people," says the Marketing major.
Those connections are especially helpful to new freshmen, who instantly have 10 to 15 new friends upon arriving at Bentley, many of whom are upperclassmen. "They offer you so much advice," says Vautrin. "Even if something is a struggle, you're going to get through it."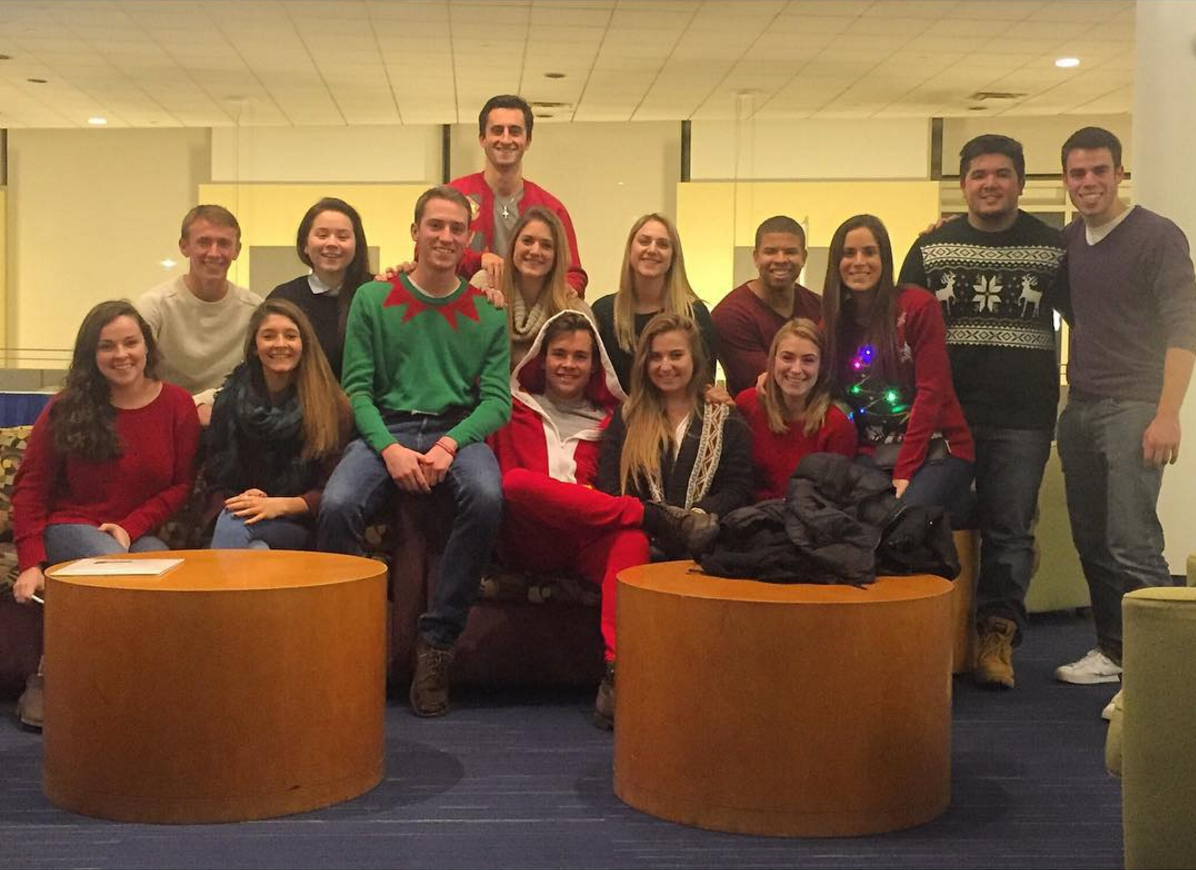 Auditioning
Off the Clock holds auditions at the beginning of every semester. The process itself is pretty straightforward: Interested students go in with a prepared song and perform in front of current members. Then they learn a bit of one of the group's songs to perform.
Staff adviser Willis-Berry encourages students interested in the group to just show up and try auditioning. In his role at Residential Life he meets many students who are interested in the arts, but never join any of the arts groups on campus — either because they didn't know it was an option or they didn't think they were good enough.
"Put yourself out there because you never know what's going to happen," he says.
Donovan's advice for auditions? "Just be yourself and love music."
Rehearsals and Performances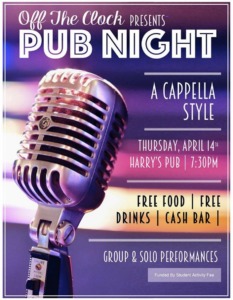 The group meets for two hours every Thursday and Sunday night for rehearsal. Either the student music director or staff adviser Willis-Berry leads each night, doing warm-ups, teaching the music and helping each student with the arrangements.
During rehearsal, Off the Clock workshops their songs. This is when the group really masters the songs, working on dynamics, blending, timing and more. They break up by vocal part to start, but then come together to make sure the arrangement is perfect.
Off the Clock is a highlight at most Bentley events. From Homecoming to Open Houses to events in Harry's Pub, they definitely keep busy.
The first month of each semester is mainly spent learning music and training new members, but by the second month they're performing every week, with up to four performances a week during their busiest months. They're also invited to local performances, such as a showcase at UMass-Lowell. They even appeared live on FOX Boston a few years ago.
Their repertoire varies across many genres, including songs such as "Chicken Fried" by the Zac Brown Band (always a crowd favorite), "Hello" by Adele, "Stiches" by Shawn Mendes, "Your Song" by Elton John, "Rude" by MAGIC!, and much more.
 Though Off the Clock is a large time commitment, none of the members seem to mind. To them, it's their time to relax with friends.
"Everyone is just awesome," says Donovan. "We all get along, we enjoy spending time together. We look forward to practice because it's a time we get to hang out and do what we love."
Save
Save
Save
Save
Save
Save
Tell us how can we improve this post?