In its 2016 Guide to 361 Green Colleges, the Princeton Review has named Bentley University 34th on its "Top 50 Green Colleges" list. The new ranking features colleges and universities who embody superb sustainability practices, a strong foundation in sustainability education and a healthy quality of life for students on campus.
Amanda King, director of Sustainability and special adviser to Bentley President Gloria Larson, says the recognition reflected an emphasis on sustainability that spanned the entire university.
"We are so please to have received this ranking from the Princeton Review," says King. "Bentley's sustainability accomplishments are the result of campus-wide engagement and a strong commitment by all faculty, staff and students."
The Princeton Review chose the schools for the seventh annual edition of its "green guide" based on data from the company's 2015-16 survey of hundreds of four-year colleges concerning the schools' commitments to the environment and sustainability. The guide cites Bentley's public commitment to greenhouse gas reductions, renewable energy purchases, sustainability-focused degree programs and 50 percent waste diversion rate as reasons for its high ranking.
A Campus-Wide Commitment 
Since President Larson signed the American College and University Presidents' Climate Commitment in 2007, the university has achieved a 50 percent reduction in its carbon footprint (greenhouse gas inventory), and set a 2030 goal of carbon-neutrality.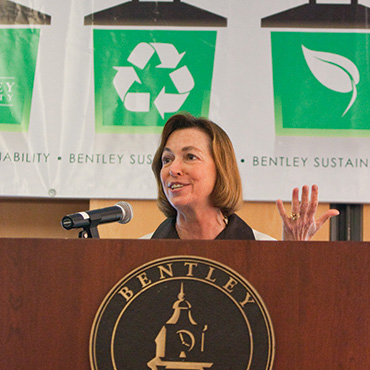 Bentley's Office of Sustainability has an impressive list of accomplishments that includes a comprehensive waste management plan — composting in all Sodexho-managed dining facilities on campus, an online office supply swap, and expanded capacity for recycling throughout campus, for example — that has resulted in a 52 percent diversion rate (recycling and composting surpassing trash).
See more initiatives that have boosted sustainability success on campus.
The university has received a "Silver Rating" for its sustainability efforts through the Association for the Advancement of Sustainability in Higher Education (AASHE). It has been included in the Princeton Review's list of top environmentally responsible colleges in the U.S. and Canada for five years straight, and has won the U.S. Environmental Protection Agency's College & University Green Power Challenge — for using more green power than any other school in the Northeast-10 Conference — two years in a row.
Read more about Bentley's green accolades for sustainability practices.
These efforts were the work of many people on campus, King notes: "Without the support of the entire campus community — faculty, staff, students and alumni — the efforts of the Office of Sustainability would go nowhere"
King is talking about the importance of engaging Bentley's students, faculty and staff in sustainability efforts and about key university partners and programs, including the Natural and Applied Sciences Department curriculum; a Sustainability Science major and Liberal Studies major concentration in Earth, Environment and Global Sustainability (EEGS); Bentley-Service Learning Center community service initiatives for social issues, such as literacy and job training; and Students for Sustainable Business (a merging of the Eco Reps and Green Society), which focuses on educating the student body about the triple-bottom line and includes the university's first undergraduate Net Impact chapter.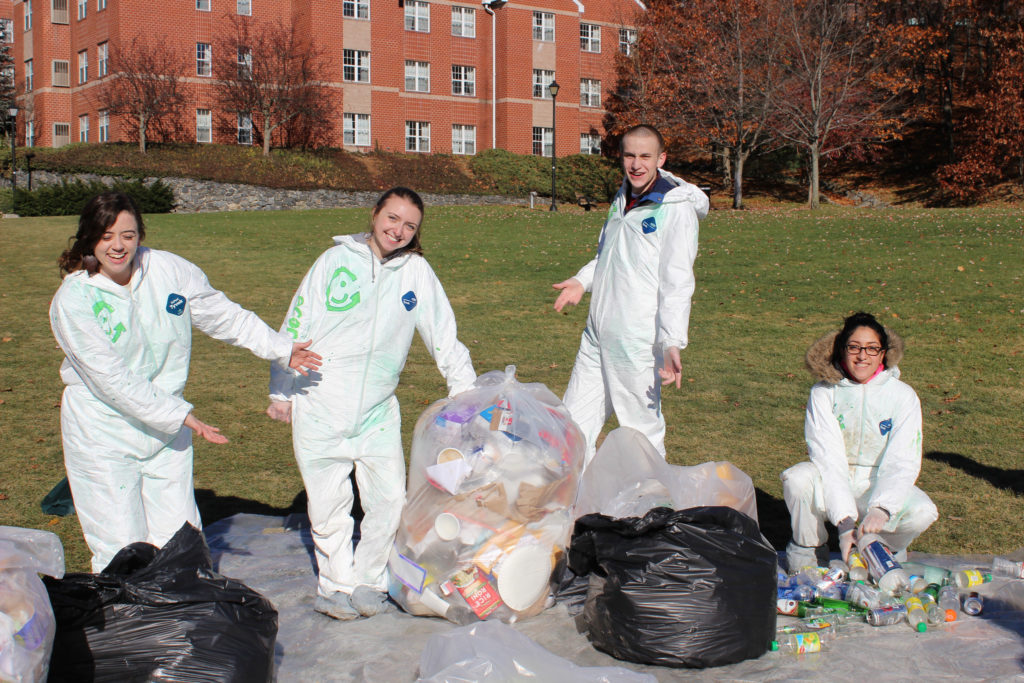 How Schools Were Chosen for the Guide 
The Princeton Review chose the colleges based on "Green Rating" scores (from 60 to 99) that the company tallied in summer 2016 for 640 colleges using data from its 2015-16 survey of school administrators. The survey asked them to report on their school's sustainability-related policies, practices, and programs. More than 25 data points were weighted in the assessment. Schools with Green Rating scores of 80 or higher made it into this guide.
How the Top 50 Green Colleges List Was Done 
The Princeton Review developed the ranking list using data from its institutional survey for its Green Rating and its surveys of students attending the colleges. Ten data points from the institutional survey were factored into the assessment. Data from the student survey included student ratings of how sustainability issues influenced their education and life on campus; administration and student support for environmental awareness.