For Bentley University seniors, the month of May includes the usual end-of-college activities: final exams, celebrations, commencement. But for the past 18 years, graduating Bentley students have enjoyed another annual tradition: a senior class trip to the Bahamas.
The trip, which takes place during the week between finals and commencement (also known as "commencement week"), is a way for students to bond, unwind and have fun with their classmates before they head separately off into the world.
Over the years, the trip has soared in popularity. A record number of seniors — more than 600 — went on this year's trip, which took place May 15 to 19 at the Atlantis Paradise Island Resort. They took part in a wide variety of activities.
Here, Accounting major Rachel Wong'16 reflects on her experiences during the senior trip:
---
At first I wasn't sure if I wanted to go on the senior trip. But one of my closest friends at Bentley convinced me — he had heard from previous seniors about how amazing the experience is. And I'm so glad he talked me into it. I wound up with fond memories that I will cherish forever.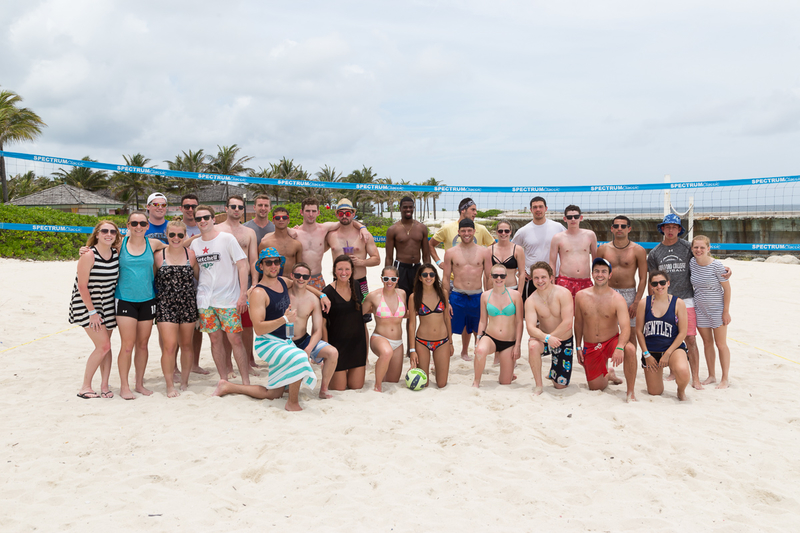 During the trip, we had lots of free time to be with our friends and explore the island. My classmates and I really enjoyed the Atlantis's beaches, aquarium exhibits and water parks. Some of my friends even swam with dolphins.
Bentley also organized great dinners and gatherings for us in the evening, including dinner at a beautiful Italian restaurant.
Beyond the Beach
But the trip wasn't all beach time. Many students also participated in Bentley-organized excursions off the resort. There was a walking food tour of local restaurants, a trip to the famous Straw Market, a cigar-rolling class at the Graycliff Cigar Factory, and a visit to the Pirate's Museum and John Watling's Distillery. I really enjoyed visiting the museums and learning more about the native people in the Bahamas.
My favorite university-organized event was the service trip where we visited the Ranfurly Home for Children. This organization provides a safe environment for kids who have been orphaned, abused, neglected or abandoned. We painted fences at the home and did activities with the children: we played basketball and soccer, designed shirts, did arts and crafts and had ice cream with them. It was a lot of fun, and very fulfilling to give back to the local community.
Learn more about why service-learning is an important part of education — particularly here at Bentley!
Meeting the Governor-General
Another highlight of the trip was being invited to a dinner and dance at the home of the governor-general of the Bahamas, Dame Marguerite Pindling. (This was the sixth year in a row that she extended this invitation to Bentley seniors.) We traveled there by bus and were escorted by police cars. Everyone wore white, and we enjoyed a wide range of Bahamian food and a traditional dance performance. I had never had an experience like it before!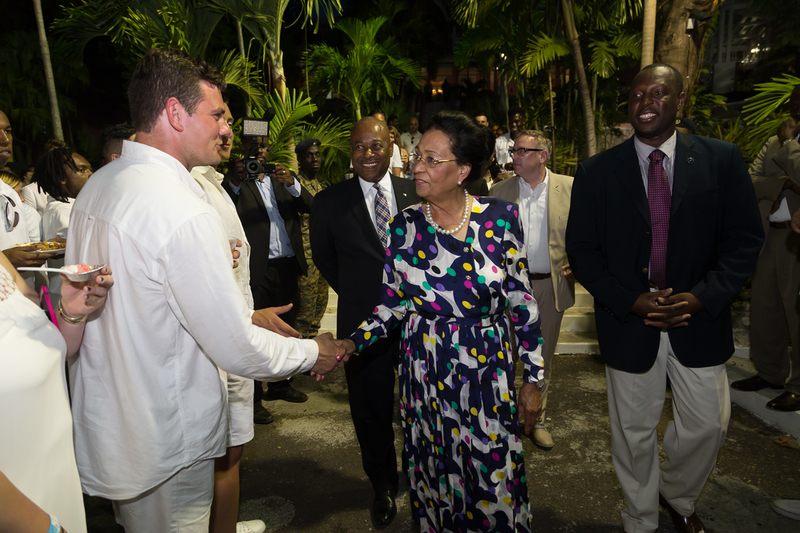 Timeless Memories
Needless to say, the Bahamas trip was a really memorable moment in my college career. Not only was it a unique transition to graduation, but also a very meaningful final goodbye to my classmates. The trip was filled with laughter, joy, happiness and smiles.
And it was timed perfectly, because it gave my classmates and me an opportunity to decompress from finals week. I will never forget my senior trip to the Bahamas!