A few weeks ago, I received an email from one of Bentley University's many GA email accounts (for those of you who don't know, GA accounts are group e-mails, used by clubs and organizations on campus). But this was perhaps the most special GA one I had ever received.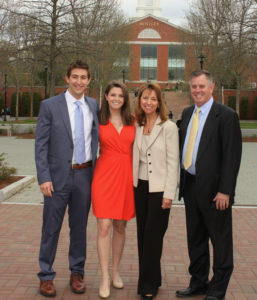 It was from the Falcon Society, informing me that I had been nominated by one of my peers for application into the society.
Being nominated was an honor enough; after reading the description of what this nomination entailed, I was overwhelmed. I had many friends and mentors before me inducted into the Bentley prestigious society, but I was never quite sure what it meant.
When I set forth on Bentley's campus my freshman year, I had aspirations to make an impact on at least one person's experience. Receiving my Falcon Society nomination and later acceptance into the society was a validation that I had accomplished my goal.
What Is the Falcon Society?
The Falcon Society is composed of a select group of students who are considered by others to have made an impact on Bentley's campus, while also maintaining strong academic performance. Students are nominated by their peers, staff and faculty, and are selected for admission by current members of the society.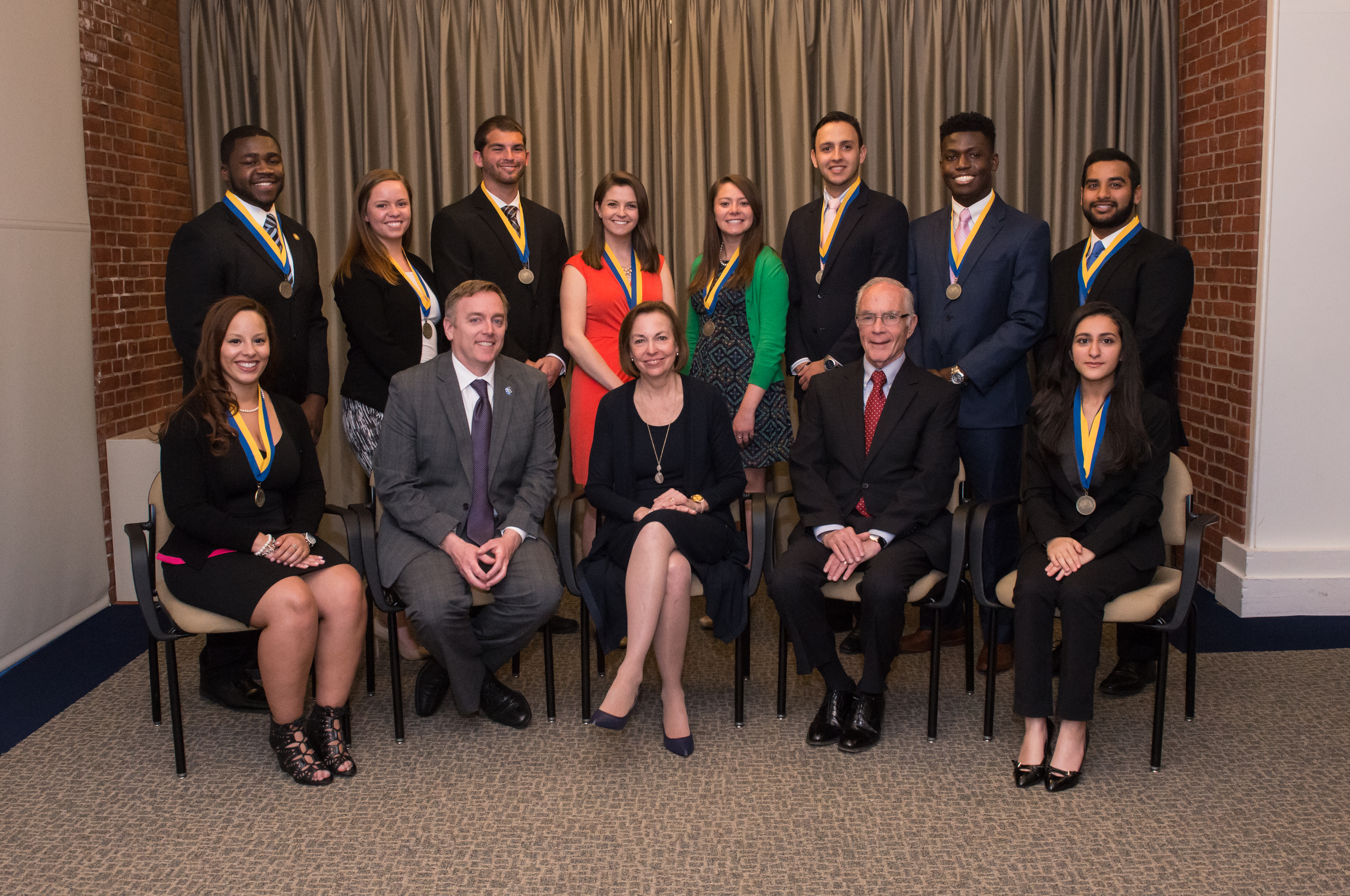 I was obviously excited to be recognized for the hard work I've put in during my three years here, but I was eager to learn more about the other students inducted. I'm amazed every day at the stories I hear of students on this campus — who do incredible things for the Bentley community in between their hours studying and (barely) sleeping.
Read more about the Falcon Society's history, nomination process and current members.
The Induction Ceremony
The induction ceremony was a night I will never forget.
I invited those who have been my biggest support system during my time at Bentley. And it was great to share the night with the four current students who were already inducted and the 10 new ones being inducted — people I consider my mentors and friends. Each student had a speech read about their contributions to the Bentley community before they were officially bestowed with a medal and a hug from Gloria Larson, the university president.

Listening to my peers' stories brought me a feeling I will never forget. Hearing about the countless hours that they put into serving Bentley and the surrounding community through Service-Learning, Residential Life, First Year Seminar, Orientation, ALANA and many other programs helped me see the type of the people who are serving as incredible role models for the next generation of Falcons.
I was amazed at how some of the inductees are leaders who have worked to break down racial and religious barriers — and have inspired others to do the same. Planning events for the community on the campus activities board and student government, competing as student athletes, and working jobs on campus are just some of the activities that many of the members are able to balance in addition to their studies.
A Special Honor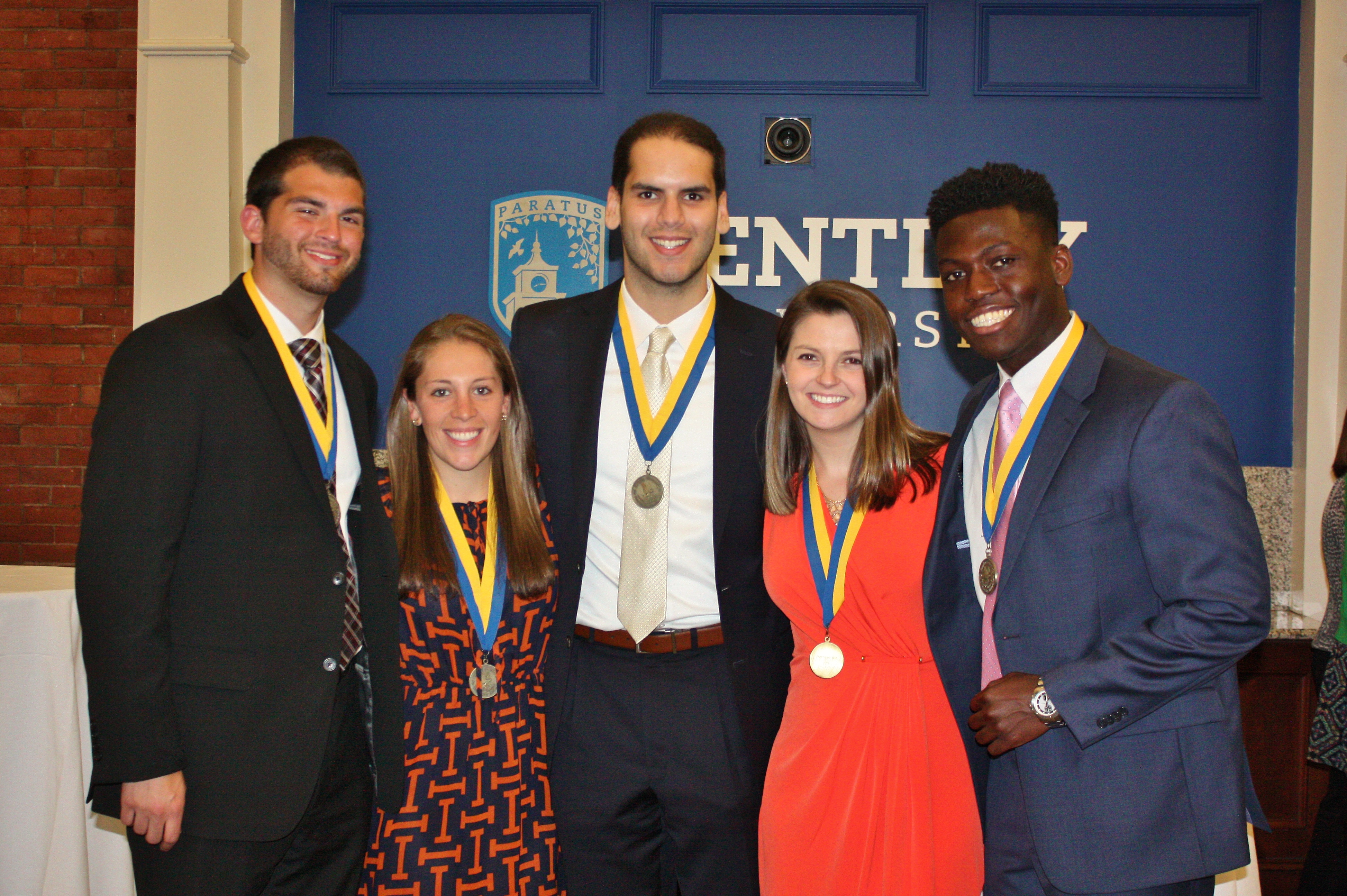 I talked to Jake Mekin '17, a Corporate Finance and Accounting major who was inducted last year. He said that being in the Falcon Society is the best recognition he's received on campus, for a special reason:
"Being in the Falcon Society means more than any award or recognition on campus because it was my peers — fellow students — who decided to recognize me and my commitment to Bentley."
Being a member of the Falcon Society isn't just a way to honor past contributions. It's also a way to inspire even more out of the Bentley community. The induction ceremony made me want to get further involved on campus and learn even more about the diverse array of activities and clubs we offer. Hearing about the hard work and dedication that my peers put into serving as models for those organizations has motivated me to learn more about what makes up our community, and just why it's so special.
Being recognized as a leader in the Bentley community has opened my eyes even more to some of the other amazing leaders we have here — and made me even more excited to see where Bentley will go in the future.