Do you watch TED Talks?
They're short presentations (18 minutes or less) on a specific topic. And there are a lot of them: more than two thousand videos, with over a billion views worldwide. Organizations also run independent TEDx events to help spread ideas.
Organizations like Bentley University.
Bentley's second TEDx event took place on Saturday, April 2, in the Adamian Academic Center's Wilder Pavilion. TEDxBentleyU 2016 featured inspiring talks from 12 speakers, including five Bentley graduate students, one undergrad and several faculty/staff members. Getfused CEO Spencer Collier, Inkhouse co-founder and CEO Beth Monaghan, and Manager Mechanics president Eric Bloom also presented.
(Learn some of the many reasons TED Talks are so popular.)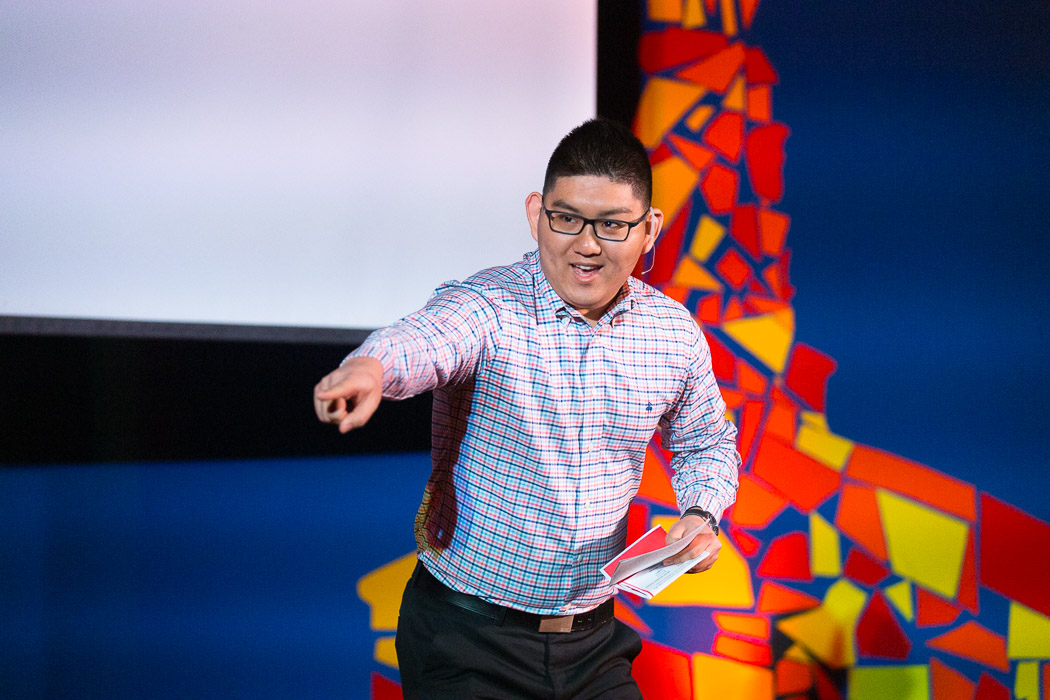 A group of more than 30 undergrads pulled together this year's event, including organizer Adam Haidermota '18. Bentley alumnus Kevin Ma '15 (who arranged Bentley's first TEDx event last year) returned as this year's host, while professor David Szymanski returned as faculty adviser.
"TEDxBentleyU doesn't just add to what students are learning in business and arts and science courses at Bentley," says Szymanski, who teaches in the Natural and Applied Sciences department. "It represents what we aim to teach."
From the Classroom to the Stage
What prompted Ma to take on the monumental task of bringing TEDx to Bentley last year? His Marketing professor, Jim Pouliopoulos.
"I used a few TED Talks in my New Product Development and Marketing class that semester," recalls Pouliopoulos, who has also presented at both Bentley TEDx events. "[Ma] came up to me and told me he liked the talks and had never heard of them before my class. He went off and did some research and came back to me with the idea to create TEDxBentleyU."
Getting Ignited
The theme of this year's event was "Ignite," chosen to encourage speakers to share where their spark comes from.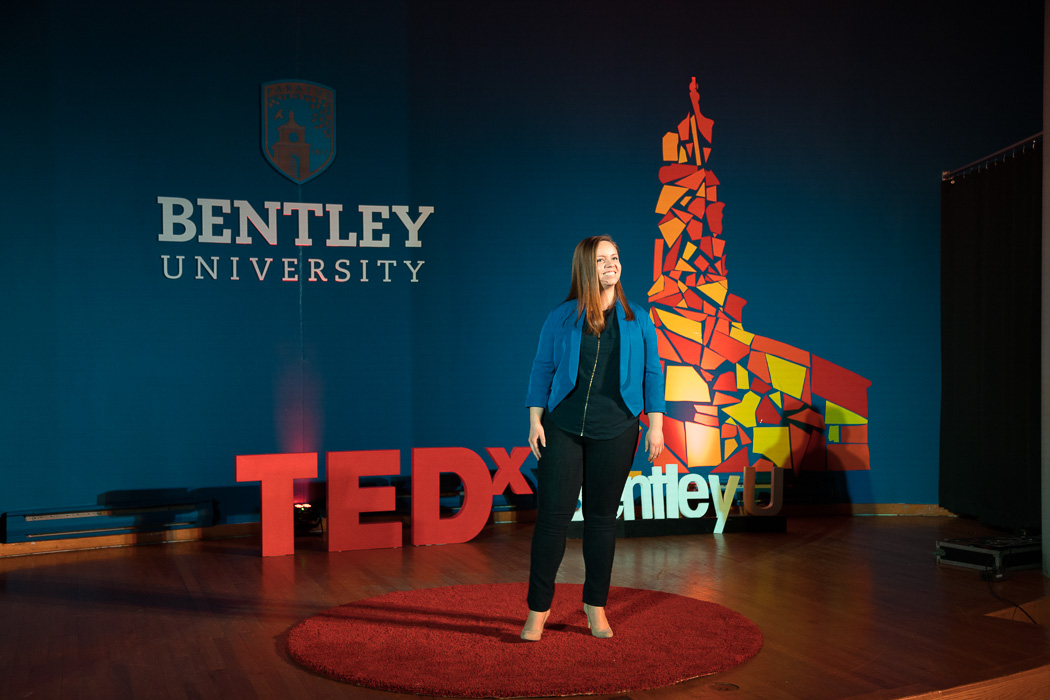 And the speakers did just that, from Business Analytics graduate student Nidhika Loomba's discussion about how Indian classical dance has shaped her as a person to Halle Prentice '16 on why she avoids the black and white in life and looks for the gray.
Find out more about Prentice, her unusual take on life and her fun post-graduation plans.
"The speakers talked about their personal journeys, and I think the stories really resonated with the audience," says Haidermota.
Building Skills
But it wasn't just the audience members who learned from TEDxBentleyU. For the event organizers and their team of 35 student volunteers, the huge amount of planning and logistics that went into the event allowed them to develop valuable skills that will benefit them throughout their careers and lives: management and budgeting skills, communication techniques (when reaching out to donors and speakers), organization and much more.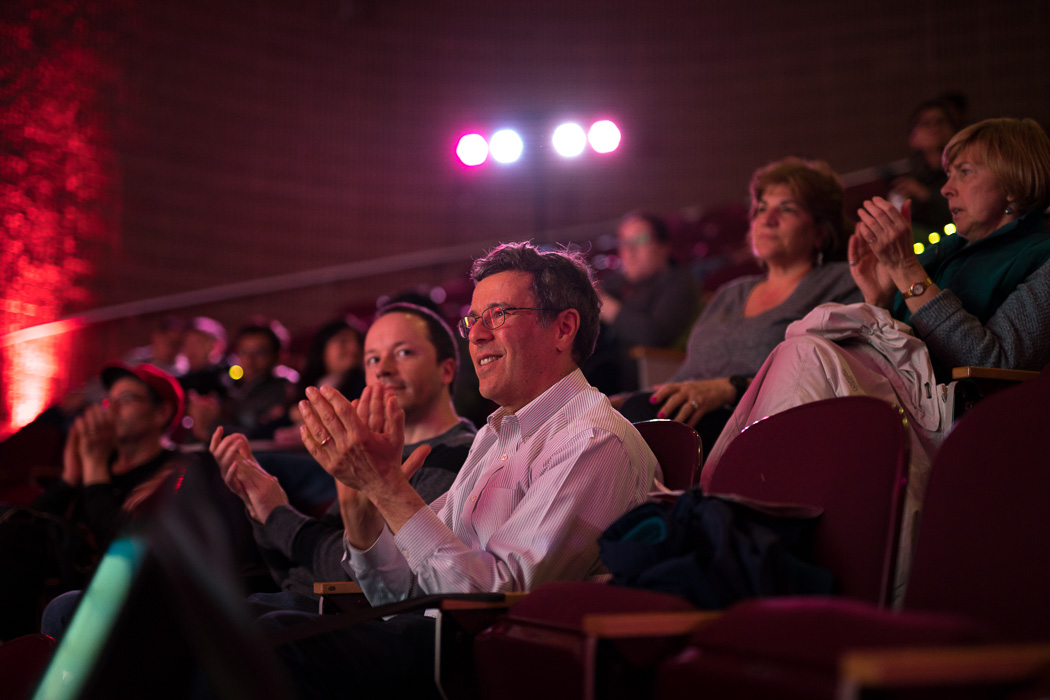 "As faculty adviser, I provide virtually no content guidance," says Szymanski. "This is 100 percent a student product, and it's their Bentley education that has prepared them to do it."
It took Haidermota and the committee nearly the entire school year to plan the event. The group broke itself into various teams that handled different aspects of TEDx, including marketing, stage design, website maintenance, and brochure design.
"There was a lot to be done in a pretty short period of time," says Haidermota, a Management major. "But our team members were brilliant and made it easy for us."
Thinking to the Future
Pouliopoulos thinks that the TEDx events are a great way for Bentley students to get involved and also uncover clues that will reveal potential career paths.
Watch Pouliopoulos' 2016 TEDx Talk:
"Getting involved in organizing a TED event puts you into a supportive environment, working with people who are all focused on the same goal," he says. "People get a chance to use their natural abilities and strengths to produce a world class event. After the event is over, students should take a moment to consider what they learned about themselves and how they can employ that new self-knowledge to chart a career course that fits them perfectly.
"The TED brand is very strong and any student who participates in organizing the event has a great story to tell when they are looking for internships and career opportunities. I imagine an employer would be fascinated that a college student was a key part of an event that has worldwide appeal."
Check out our Interesting Internships series to see what career paths some Bentley students are jumping on.
Bigger Lessons
In addition to the business skills they honed, the TEDxBentleyU organizers also had some broader takeaways they say will really help them when managing projects and organizing events in the future:
Don't give up. In order to bring TEDx to Bentley, Ma had to seek approval from several faculty members, solicit donations and funding from companies, and recruit team members and speakers. In other words, it wasn't easy, and Ma sometimes felt like throwing in the towel. But he's glad he didn't.


"Don't give up just because you hit a speed bump or one person says no," he says. "There are other things to try and other people who will be willing to help you."

Expect the unexpected. "There will always be something that's out of your control," says Haidermota. "So you need to be flexible and adaptable."
There's no one "right" way to hold an event. "From my involvement both years, I've learned that there are different ways you can do an event and still have it be successful," says Ma. For example, this year's TEDxBentleyU was broken into three sessions, with four speakers presenting at each session. Audience members' tickets were for four speakers rather than individual speakers like last year.
You can never be too prepared. "If you're a little over-prepared, you'll be more ready to work through any challenges that may arise," says Haidermota.
Delegate responsibility. When you're organizing an event, it's tempting to want to do everything yourself. But that will make you burn out quickly and deny you the chance to utilize other people's strengths, connections and skills."Everybody brings something different to the table," says Ma. "There's no reason not to have as many people helping you as you can."
Haidermota says plans are in the works to bring TEDx back to Bentley next year.
"There's always something to be learned at TEDx that you can't really get anywhere else," says Haidermota. "It opens people up to new ideas, and that is so beneficial to the Bentley community."
Want to get started watching TED Talks? Here are some of Professor Pouliopoulos's favorite ones: