Touring a college campus is one of the most important parts of the college decision-making process. It's your best chance to talk with current students about their individual experience, but the questions you ask are as important as the answers you get. After introducing yourself and sharing your potential major, here are five questions you should ask on every college tour.
What was your transition like from high school to college?
Every student will experience a transition from high school to college, whether they live 20 minutes down the road or 500 miles away. So make sure to ask your tour guide what a typical day looks like and what is expected of each first-year student in the classroom. What does an average week look like? What do you do with free time in your schedule? Is there time to get a work-study position or part-time job? Are there departments to help you with study skills or stress management?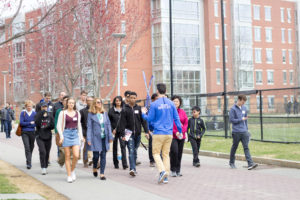 What is the classroom experience like?
Let's talk about why you're really here — to get an education! Whether you're fulfilling a general education requirement or a major-specific class, you will be spending a lot of time with professors and other students in a learning environment. What is a typical classroom set up look like? Is it mostly individual or group work? How accessible are the professors if you need additional help? What are some of the more interesting classes you have taken? What sort of technology is used in the classroom?
What is the social scene on campus?
Although your first order of business is to get an education, you're also going to want to have fun while you're here. College is a time to try new things and meet people from various backgrounds. What types of organizations can I be a part of? Do the residence halls provide any activities? How often do kids go home on the weekend? Is there a lot of school spirit? If I'm not involved in a club, will I feel left out? Does the school have any fun traditions or events that happen every year?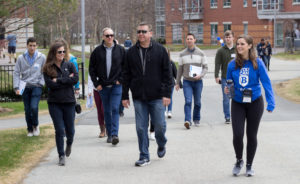 How will this college help me prepare for the future?
I know what you're thinking — I haven't even started taking classes yet! However, one of the most important questions to ask when visiting a school is how it will better prepare you for life after college. We understand that college is a significant investment into your future — will you be prepared to step into the real world after graduation? Are there opportunities for internships? What is the job placement rate after graduation? Is it easy to connect with alumni and does the college provide tools to grow your network? Will you have access to career services after you graduate?
What is something that surprised you about your experience?
Rather than asking a student what they would like to change about a college, ask what surprised them. It's likely the student giving the tour is proud to be a member of the college community, otherwise they wouldn't have signed up to be a tour guide! But asking what surprised them could give you an opportunity to have an honest discussion about what it's really like being a student at the institution. This can help dispel any misconceptions about the reputation of a school or can give you a new insight into what life is really like on campus.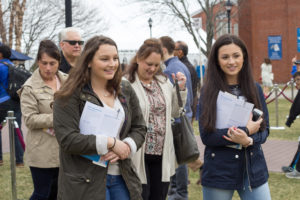 As you're collecting information from your tour guide, remember that this is just one perspective in a student body of thousands. If you get the opportunity, talk to other students during your tour, and remember that everyone has a different college experience. Make sure to get the contact information of your tour guide in case you have any questions when you leave the tour. They are there to help you make the most well-informed decision. Good luck on your search!
Tell us how can we improve this post?