When Computer Information Systems major Ryan Strobel '22 first came to Bentley and took the Clifton Strengths finder assessment, one of his strengths was identified as the Includer theme. "This made a lot of sense to me as I feel that things are so much better when everyone is involved," Strobel says. That also explains why he chose to volunteer with Best Buddies, a nonprofit dedicated to "creating opportunities for one-to-one friendships, integrated employment, leadership development and inclusive living for people with intellectual and developmental disabilities." 
When did you first become involved with Best Buddies?
I joined the Best Buddies organization in 2015 during my first year at Algonquin Regional High School in Northborough, Massachusetts. I had heard a lot about the organization through supporters like  [former New England Patriots quarterback] Tom Brady.
During sophomore year, I applied to become a peer-buddy, an individual who is paired in one-to-one friendship with someone with an intellectual or developmental disability. My buddy and I would check-in a few times a week over text and attend group events and planned hangouts such as going to grab pizza, hiking or — his personal favorite — trampoline jumping at Sky Zone.
How did your participation progress into a leadership role?
That same year, my high school chapter won Massachusetts Chapter of the Year. To nominate us to be International Chapter of the Year, I developed a 20-minute film showcasing our work. I met with buddy pairs, visited families at their homes and interviewed teachers and school staff members. At this point, I was offered a position on the officer team. I took on the role as the business development officer, managing the 501(c)(3) accreditation, applying for various grants, developing promotional media and managing technological aspects of running a Best Buddies chapter.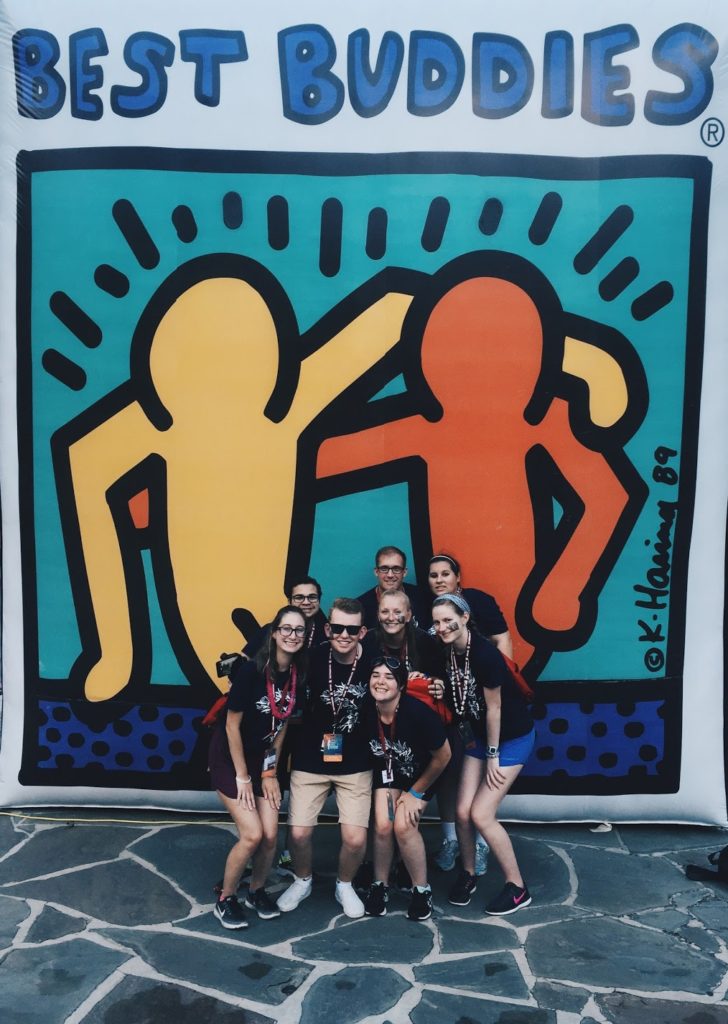 I was also able to attend Best Buddies' International Leadership Conference at Indiana University in Bloomington in 2016 and 2017, and virtually participated in the 2020 leadership conference.
How has your involvement with Best Buddies continued while at Bentley?
I joined Best Buddies at Bentley as an associate member to continue my work with the organization and promote friendship between those living around our campus with a disability and Bentley students. I was later selected as Bentley's chapter president. 
On campus [pre-COVID] we hold monthly events — pizza parties, crafts, bingo nights — where we welcome Waltham and Watertown community members with an intellectual or developmental disability. One of my largest initiatives was to get the Bentley chapter recognized. To do that, I've been working with the Best Buddies Massachusetts and Waltham High School to make a connection between our organization and the students.
Are there other service projects you have worked on at Bentley?
My work with the Waltham Public Library was associated with the Bentley Service-Learning and Civic Engagement Center as part of an information process management course. Our professor assigned a project where we worked with Aaron Devine, director of English as a Second Language Services. Our task was to gather data, do analysis as a group and present recommendations to Aaron and his team. In the middle of this project, we were sent home due to COVID and were luckily able to quickly adapt and make presentations over Zoom. At the same time I was taking a web design course (IDCC370) and one of our recommendations was a concept for a new website. I was able to build this using the skills from both my courses.
Why did you decide to become an orientation leader?
I became involved with Orientation after my first year at Bentley. After having such a positive experience as an incoming student, I wanted to continue the legacy of my orientation leader and continue welcoming new Falcons. Now having been on the orientation team three times, I can say it is one of the best things I have done at Bentley. I have made so many connections with my fellow students, put my strengths to the test and shown off my pride in being a Bentley falcon. 
Your work in service and as an orientation leader has helped you develop leadership and teambuilding skills. How have you put those to work in other areas of your studies and career development?
During my first year at Bentley, I competed in a PWC case competition with a group that lived on my floor. It gave us early exposure to a large company such as PWC and experience working on a team to tackle a real-world problem. We were tasked with finding a new headquarters for a fictional company. This really tied into the current events at the time as Amazon had announced plans to expand to a city that had not been chosen. Using data provided and our analytical skills we gave a presentation to a board of PWC employees. 
I was also recently accepted to the spring 2021 Deloitte Consulting Externship program, where I will be on another team of Bentley students working directly with Deloitte consultants. I was able to be involved with their Salesforce Academy in October, where I learned firsthand how to use the popular CRM software, Salesforce. Bentley provides so many opportunities to engage with companies and I am so glad I am able to take advantage!
Tell us how can we improve this post?