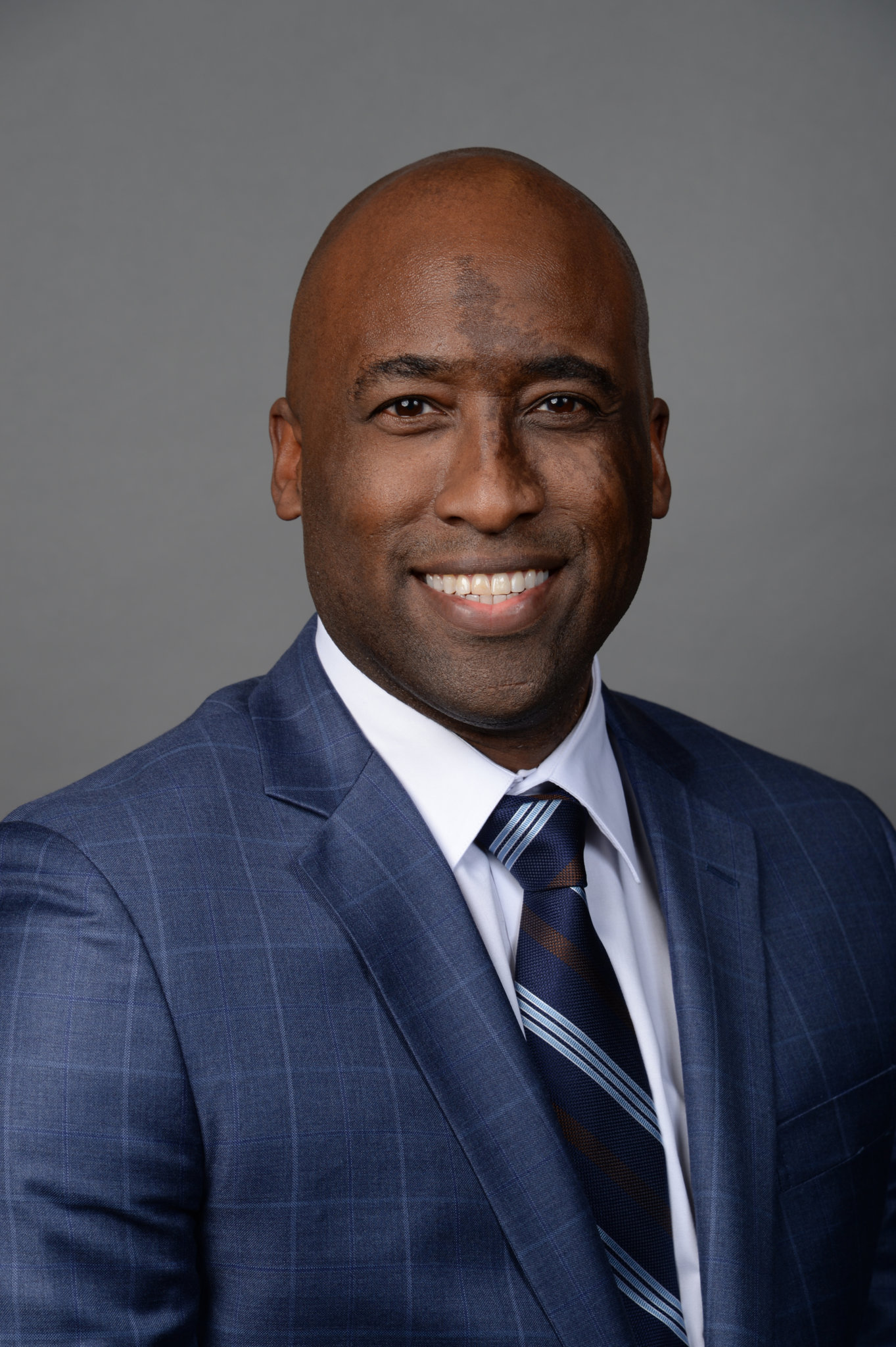 Name: Brad Walker
Class Year: 1996
Major: Marketing
Job Title: Commissioner, America East Conference
Brad Walker played basketball at Bentley for four years from 1992-1996. Though his athletic career got off to a rocky start freshman year, he played his final season as starting captain. Learning the power of hard work and determination is what later helped Walker transition from a job in marketing to one he is passionate about — first as head of basketball operations for the NBA G League and now as Commissioner of the America East Conference.

What was the best part of your Bentley experience?
I loved the location and the small student body; I felt like I knew most of the people in my class. From the moment I arrived on campus, I knew that I already had this group of basketball teammates I would be a part of; I expected that. But it's actually the students I met in my dorm (Trees) who became some of my closest friends — and still are today.

How did your career progress after graduating from Bentley?
I was a Marketing major and ended up landing a job at FunJet vacations as an account manager in Milwaukee (my hometown). Once I realized I wanted to pursue something else, I found an internship in media relations at Holy Cross. I highlighted my marketing degree and previous basketball playing experience to get me in the door. After a year and a half at Holy Cross, I got my first full-time gig as a media relations assistant at the Mid-Continent Conference (an NCAAA DI conference in Illinois). That started a long career in college athletics. After three years working mainly in media relations, I was able to parlay that into marketing, TV, and sports administration duties along the way. Eventually, I was named associate commissioner and chief operating officer at the Ohio Valley Conference, and from 2016 – 2021 was the head of basketball operations for the NBA G League.
How have the skills you learned at Bentley played a role in your careers?
Having the chance to play basketball for Bentley was a big influence on my post-grad career. In addition to the time management and organizational skills I learned from being a student-athlete, I also learned a lot about how to compete, work as a team, and build relationships. When it came to transitioning to a new industry, I actually credit the fact that I was the worst player on the team my freshman year. I was determined to change that — and I did. I got in shape and focused on a different skill. Since I wasn't a great ball handler, I became more of a shooter, and by senior year I was a starter and averaging 14 points a game. Learning to get past these challenges and believing I could get better is what gave me the confidence to leave my first full-time job as a marketing manager to pursue a job I love in the sports industry.

What was your role at the NBA?
I oversaw the NBA G League on-court activities, including the development of regular-season and playoff schedules, the management of rule changes, and the enforcement of player conduct standards and discipline. The NBA G League is the NBA's official minor league.

What were the challenges of that job and what did you most enjoy?
They end up being the same thing. The biggest challenge (and the biggest opportunity!) was that it's a growing league. When I started, there were only 19 teams, this past season, there were 22 teams, and next season there will be 26 teams. The ultimate goal is to get to 30 teams so each NBA squad will have their own single-affiliated minor league team. Additionally, the NBA G League is the research and development arm of the NBA, so, they're always testing new rules. And, with the league's growth, the staff has to integrate all of the new teams into the current league scheduling.

What helps you to be successful on the job?
An ability to work with a lot of different types of people and to be able to build relationships. A lot of my job is about managing different teams, each with a staff who has a unique way of handling things. I have to be very flexible and be able to adapt — and know when it's time to make a decision and move forward.

What's your advice for future Bentley students?
Get involved in as many different activities as you can, both at Bentley and once you graduate. This includes interning and volunteering. Early in your career it's less about the salary and more about the experience and the networking. Take advantage of the unique experience Bentley provides with its location, alumni base and commitment to technology.
Tell us how can we improve this post?