Ashley Chen '23 is a Marketing major with a Liberal Studies Major in Global Perspectives.  

Ashley Chen '23 is a Marketing major with a Liberal Studies Major in Global Perspectives.  
At Bentley, she holds leadership positions in Alpha Kappa Psi, Bentley Association of Chinese Students (BACS) and Momentum, an all-inclusive dance group and the first organization she joined at Bentley.
What do you love about dance? 
Dance is my place to escape and feel free, yet in control. I found solace in discovering a method of expression without having to say a word. I hold myself to very high standards and can be overly ambitious at times, but dance has allowed a time when I can push out my stress into movement — momentum, if you will. Even if it's just a 30-minute break during the day where I can freestyle to my favorite song, it's worth it.  
Does dance tie into your Bentley studies? 
Yes! Dance is a form of self-expression. The fulfillment found in the creative arts is not defined from others' opinions of you. It is based on your expectations of yourself. Those who are able to reflect in the moment and translate what they are feeling into something that expresses their true feelings are some of the strongest people out there. That very well might be in speech, writing or painting.   
For a business school like Bentley, humanity for yourself and others is essential. It is very easy to get lost in others' definitions of success and their perceptions of who you are. Finding an outlet that reminds me that other people's perceptions of me are not my responsibility has greatly impacted my world view and how I problem solve in the business world.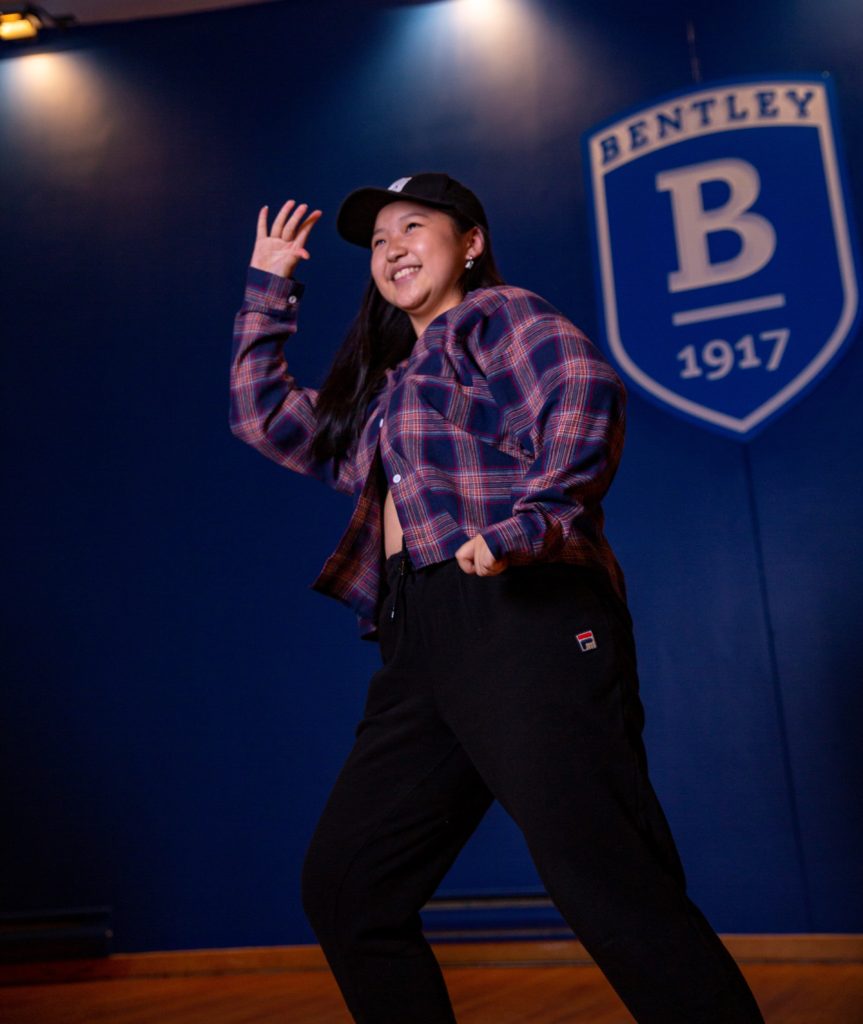 Why did you agree to serve as Momentum's Marketing Director, then Vice President? 
I am a Marketing major with a heavy design/branding background, so I used that to create Momentum signage and flyers. I appreciated the challenge of working with different design styles to match the individual style of each workshop choreographer. As VP, I help with workshop planning and marketing, and also help oversee the executive board. 
Do you have a favorite Momentum performance? 

The SASA (South Asian Student Association) Diwali in 2019. This was the first performance I did at Bentley and definitely the biggest. I remember being terrified about being on stage again and drilling moves last minute with team members backstage. But once we got out there, it was just us and the music. The weeks of rehearsals paid off and before I knew it, it was over.  
Any advice for a student looking to join Momentum? 
Don't be afraid to step out of your comfort zone! That is what college is about. You have the time, resources and support to do this. You will always have the community behind you to hype you up as you perform, whether it be at a workshop showcase or on stage. 
Tell us how can we improve this post?