By Kristen Walsh
As a high school junior, Sydney MacLeod was like most of her peers: She didn't know exactly what she wanted to study in college, and admits that she wasn't 100 percent confident about business. But then she was recruited for the Bentley field hockey team ("One of the best academic schools in the division"). So she visited campus, she talked to people, she noticed what students and professors were doing. And she found out that Bentley was much more than business.
"I'm not really into math and science, so I definitely was going to do political science or some type of writing," MacLeod recalls of her original college plans. "I saw that I can still do that at Bentley, and that business is the best way for me to apply those skills. If I didn't come here, I probably would have ended up in a major that was going to be a lot harder to apply in the real world, so I got really lucky ending up at a business school."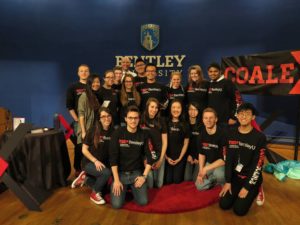 The good news is that MacLeod didn't have to declare a major right away. Instead, she did an internship at New York Life Insurance during the summer before sophomore year and discovered what she didn't enjoy: finance. "I was gravitating toward marketing and also realized that I really needed to incorporate things that I'm passionate about — sustainability and travel — into my major."
And she found that by combining her major in Marketing with a Liberal Studies Major in Global Perspectives and a minor in Earth, Environment and Global Sustainability. But not without some help. "One of the big pros of being on campus this size is that you can just about talk to anyone, anytime." She met with Bentley Director of Sustainability Amanda King and Associate Professor of Natural and Applied Sciences David Szymanski. "As a young undergrad, it was hard to understand how sustainability and business could be applied together in careers. Syzmanski and King helped me understand the real world application of the two."
Her business courses also served as inspiration. "I like going to class and talking about what's going on in the world right now in politics and not having a professor that's only thinking from an economics perspective. My professor has done some really cool things in another field so it gave me an opportunity to hear about new career paths that I could pursue."
'It felt really empowering'
At Bentley, MacLeod wasn't just busy figuring out her major. She was navigating the role of women in business, thanks to a scholarship she received from the Bentley Center for Women and Business (CWB). "The scholarship meant a lot to me because it meant I was being celebrated as a female leader, and Bentley also had a female president." She points to the Women's Leadership Program: "The CWB enables you to have a network and community that you're immediately a part of and can grow in."
She also remembers attending a Bentley women's leadership dinner while in high school. "It felt really empowering to know that women are so supported on campus."
And speaking of women leaders, MacLeod just completed a term as Class of 2018 president. She has also played field hockey for three years, studied abroad in Budapest, Hungary, completed a total of three internships (New York Life Insurance, Iron Mountain and Sophos), worked with underprivileged teens to empower them and ensure them a better future, and was a part of the video and photography department of Bentley TEDx.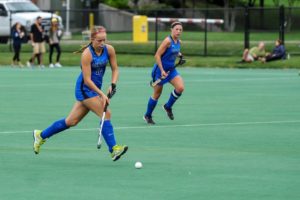 So when it came time for MacLeod to find a full-time job, she says her résumé had "a little bit more personality" because of the diversity of experiences and her LSM. The LSM, for example, is a way to show that academics goes beyond hard skills like accounting or finance or marketing.
"It was a way for me to explain something that I am passionate about and I really value. In a lot of those classes, you're not even talking about business in a hard, corporate discussion," MacLeod says. "I think that's a really good part of Bentley; you don't just come here to do business."
Tell us how can we improve this post?