By Emily Larson 
The summer after everyone's first year of college always starts off with a bang. Rekindling with high-school friends, beginning summer jobs, and readjusting to living back at home is all very exciting and busy. But come mid-July . . . everybody starts getting antsy to head back to school.
First of all, upperclassmen move-in day is a whole different story than first-year move-in day. The whole process is much less hectic and all the anxieties I felt last year were replaced with eagerness and excitement. Recognizing so many familiar faces, I couldn't wait to see who I would be living near and which new friends I would make.
Living in Forest Hall
The joys of communal bathrooms and cramped living spaces are long gone. I now have a large bathroom, storage closet, half kitchen, and living room! Being able to curl up on my couch to watch the Patriots on Sundays is the best part of having a living room at school. Last year it just never felt right having to lay in my bed while watching a game. One thing I will say is that my bedroom closet can never be big enough!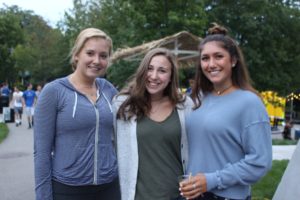 If your housing selection went according to plan, sophomore year you get to choose friends that you want live with. This means not having to hike across half of Trees, or worse — from Trees to Miller — to see them. Living with my friends means that there is never a dull moment. I've become so accustomed to having friends around all the time that being alone in my single bedroom at home almost feels foreign.
If you're lucky like me, you brought a car to school with you. This alone might just be the most game-changing aspect of sophomore year so far. Without any Friday classes, my Honda Accord and I go out for errands and shopping. I can go home when I please, get food that's not from campus when I please, and enjoy the freedom of being behind the wheel. Although, unlike being home in Rhode Island, it can take a bit longer to get where I need to go. For close-by food, however, the options are plentiful.
Academics
During class registration last year I somehow was able to schedule my classes so that my Fridays are completely free. My high-school self would be incredibly jealous knowing that! This means that the other days of the week are pretty busy, but that's exactly how I like it. By sophomore year, most students have a good idea about what kind of class schedule works well for them, and we plan accordingly.
Being in class as a sophomore is reminiscent of high school, as there are many familiar faces in almost all of my classes. With a few more required courses to complete, the dreaded GB112 and GB212 of freshman year have been successfully erased from my memory, however the same cannot be said for Accounting and Finance majors. I am looking forward to starting Marketing courses in the spring, as well as planning what I will take while abroad in the fall, wherever that may be.
Getting Involved
The best thing about being a second-year student is that, as sophomores, we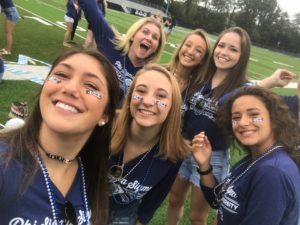 may be casually looking for potential internships, but we don't face the stress of having to land a dream post-junior year internship or, for seniors, a full-time job. We can peruse the career fair and network as much as we want without immediate pressure.
Some of us are applying to go abroad in the upcoming semesters, and many of us are assuming leadership positions and getting even more involved on campus. It's exciting to know the ins and outs of Bentley's clubs and organizations and be able to take charge on campus.
This semester has been my favorite thus far, and I can't help but feel sad as it is coming to a quick close. I can only hope that next year will be just as rewarding and exciting!
Tell us how can we improve this post?