While other kids her age were reading comic books or chapter books, 11-year-old Julia MacIsaac '23 was scanning The New York Times travel section to add to her wish list of places to visit. As she dreamed about experiencing new cultures abroad, she regularly made the local trip to farms near her home in rural New Jersey to harvest fresh vegetables for people living with food insecurity. Later, as a high schooler beginning the college search, she looked for a way to pursue these twin passions for culture and service — a journey that ultimately led her to Bentley.
"I always knew I wanted to go abroad, so it was a must-do when I got to college," recalls MacIsaac. But she was also looking for purposeful work with an impact, like her childhood experience with America's Grow-A-Row, an organization that grows and harvests vegetables to donate to food insecure community members. Here, one school among many with study abroad programs stood out: "Bentley was the one of the few schools on my prospective colleges list that also offered a Nonprofit Organizations minor."
MacIsaac headed to Bentley knowing that she wanted "social responsibility as part of my career" and that a strong business background would serve her well — but she also found some unexpected paths. "What I didn't realize until after I started at Bentley was just how many opportunities there are for service," she recalls.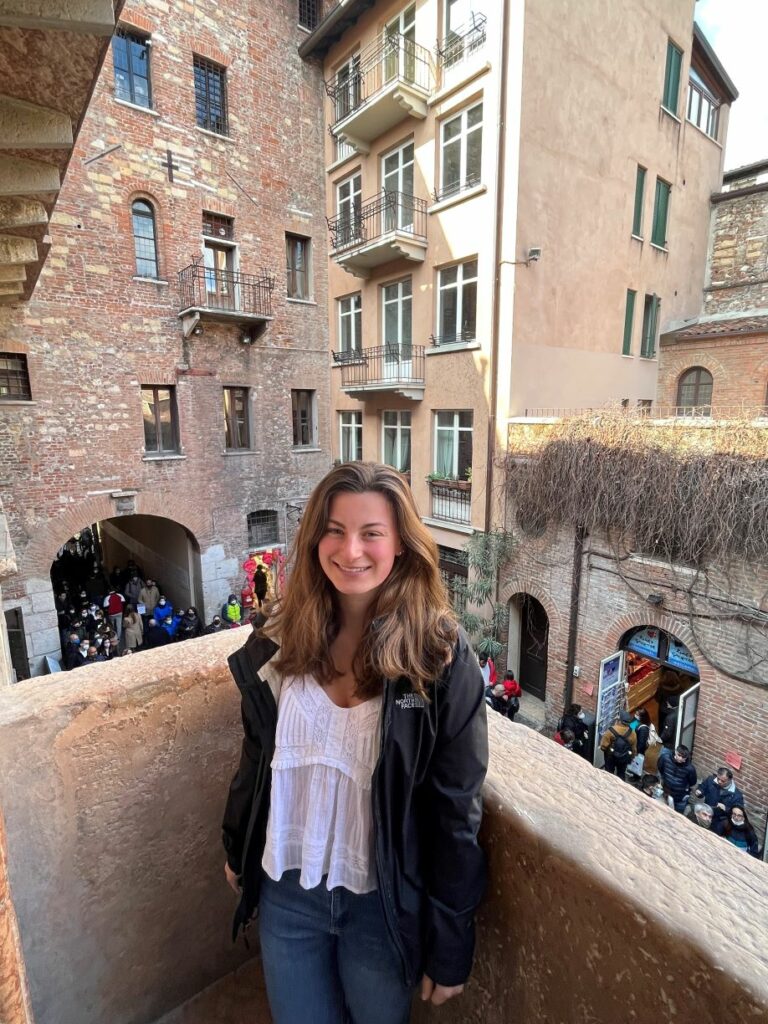 One that first presented itself to MacIsaac was through the Global Impact Internships program, which offers opportunities for six-week long virtual work experiences with nonprofits based in Peru. It is offered by the Cronin Office of International Education in partnership with social enterprise Emzingo, and gave MacIsaac, who is majoring in Management with a Global Management concentration and minoring in Nonprofit Organizations and Spanish for Business, an opportunity to "understand the political and economic realities facing Peruvians," she says.
The experience led MacIsaac to others, including the Pulsifer Nonprofit Summer Internship Program, which funds paid internship opportunities with nonprofits and is offered through Bentley's Pulsifer Career Development Center. With more limited budgets than private-sector corporations, nonprofits often have fewer paid opportunities for interns, but MacIsaac's stipend enabled her to gain valuable real-world experience at one of these organizations. MacIsaac's internship at the Massachusetts Nonprofit Network, which provides resources to a network of more than 700 nonprofits in the state, was an "absolute dream," she says.
Amid MacIsaac's immersion into the nonprofit world, her studies at Bentley helped her identify another career path where she might be able to combine her passions for travel and service: corporate social responsibility (CSR).
"Organizations, Society and Responsible Management was an eye-opening course for me," says MacIsaac of Professor of Management Cynthia Clark's class. "We talked about management ethics through different case studies, but I was also introduced to the concept of corporate social responsibility, and I fell in love with the idea. I recognized parallel paths: I could apply my skills to a career with a nonprofit or work in CSR in a corporate setting. I want to use my voice to ask what we can do better for the community."
FOOD, LANGUAGE, CULTURE AND SOCIETY
MacIsaac's focus on community is strengthened, she believes, by her love of travel and exposure to other cultures. MacIsaac fulfilled her bucket list item in spring 2022 when she studied at Istituto Lorenzo de' Medici in Florence, Italy. It was there that the course Participation, Empowerment and Social Change piqued her interest and deepened her commitment to community service.
"We talked a lot about societal perspectives on social movements: what caused them, what shaped them and what were their lasting impacts," says MacIsaac, who served as president of Model United Nations at Bentley during her junior year. "Learning about how social movements are formed and why they exist will allow me to help nonprofit organizations tackle important issues both on a legislative scale and on a community and societal level."
On a more personal level, MacIsaac also found that this deepened understanding of society led to a greater enjoyment of it as she participated in cultural activities as an international guest. She took time to explore local eateries and consider their geographic and cultural influences. "I am such a foodie and I absolutely love trying different cuisines," she says. "It's so interesting seeing how each country's cuisine changes depending on where they're located."
The Eurail made it easy for her to explore Europe by train. "I love learning bits and pieces of new languages and picking up small cultural differences, such as the unique history behind each city," she says of the experience.
She adds that, "Being abroad has further cemented my passion for service. I've seen a wide discrepancy in wealth in many of the countries that I've visited, and the people I've met continue to inspire me to incorporate service into my career."
Tell us how can we improve this post?