Lucas Vanroboys '23 helps student-athletes connect with brands to monetize their name, image and likeness
Endorsement deals — agreements for a company to use an individual's name, image and likeness (NIL) for promotion to represent their brand — have typically been reserved for large corporations, celebrities and elite professional athletes. But in July 2021, the NCAA (National Collegiate Athletic Association) passed the NIL policy, allowing college athletes to sign paid endorsement deals. Now, Lucas Vanroboys '23 is helping student-athletes get in on the game with his company, EndorseMate LLC, which launched in February 2023.
"The goal of EndorseMate is to level the playing field by helping brands and athletes connect and create winning brand deals," says Vanroboys, who was recruited to Bentley's D1 hockey team and took to the ice as a forward in 2019. "Being a competitive athlete myself and realizing the unique status athletes have in our society, I think it is impossible to ignore the brand value they have to offer."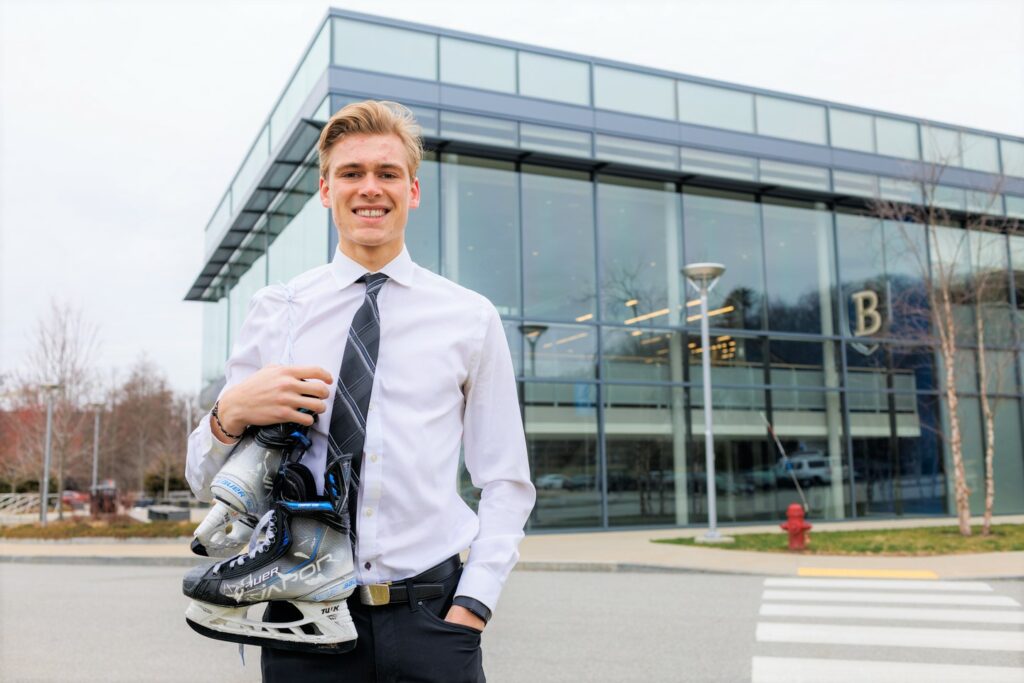 The idea for EndorseMate first took shape during the Bentley course Introduction to FinTech (FI323), taught by Anurag Wahklu, a lecturer in Finance. The assignment was to create a startup idea and pitch it to a group of judges for the final exam. Vanroboys' group happened to include other Bentley student-athletes from his hockey team.
"At the time, the NCAA had recently allowed student-athletes to monetize their name, image and likeness," says Vanroboys, an Economics-Finance major who was named an All-American Scholar by the American Hockey Coaches Association in 2021-2022. "As D1 athletes, we all wanted to get involved in the space but found it nearly impossible to do so. Coming from a smaller-sized school without the extensive media attention of some larger schools, we felt overlooked and excluded from the space."
Vanroboys and his team set out to develop a business plan to tackle the tough issue of inclusion for endorsement deals, with the final class presentation taking place in a 'Fin Tank' (Shark Tank-style business pitch format) in front of judges that included entrepreneurs and industry professionals. Vanroboys' team was one of the top-performing, and while the original group disbanded after the final exam, Vanroboys decided to keep building the idea. And it's that kind of perseverance that Wahklu likes to see.
"When the NCAA policy change was announced, Lucas picked up on that very quickly, and when it comes to startups, execution — doing it faster, better or cheaper — is the key to a winning formula," says Wahklu, who stays in touch with Vanroboys about EndorseMate's progress. "My objective is to inspire students; I don't use a textbook in my class, I invite guest entrepreneurs in various states of growth to talk to about the behind-the-scenes work that goes into a startup. Lucas had a very well-thought-out plan and enough conviction in an idea to move forward."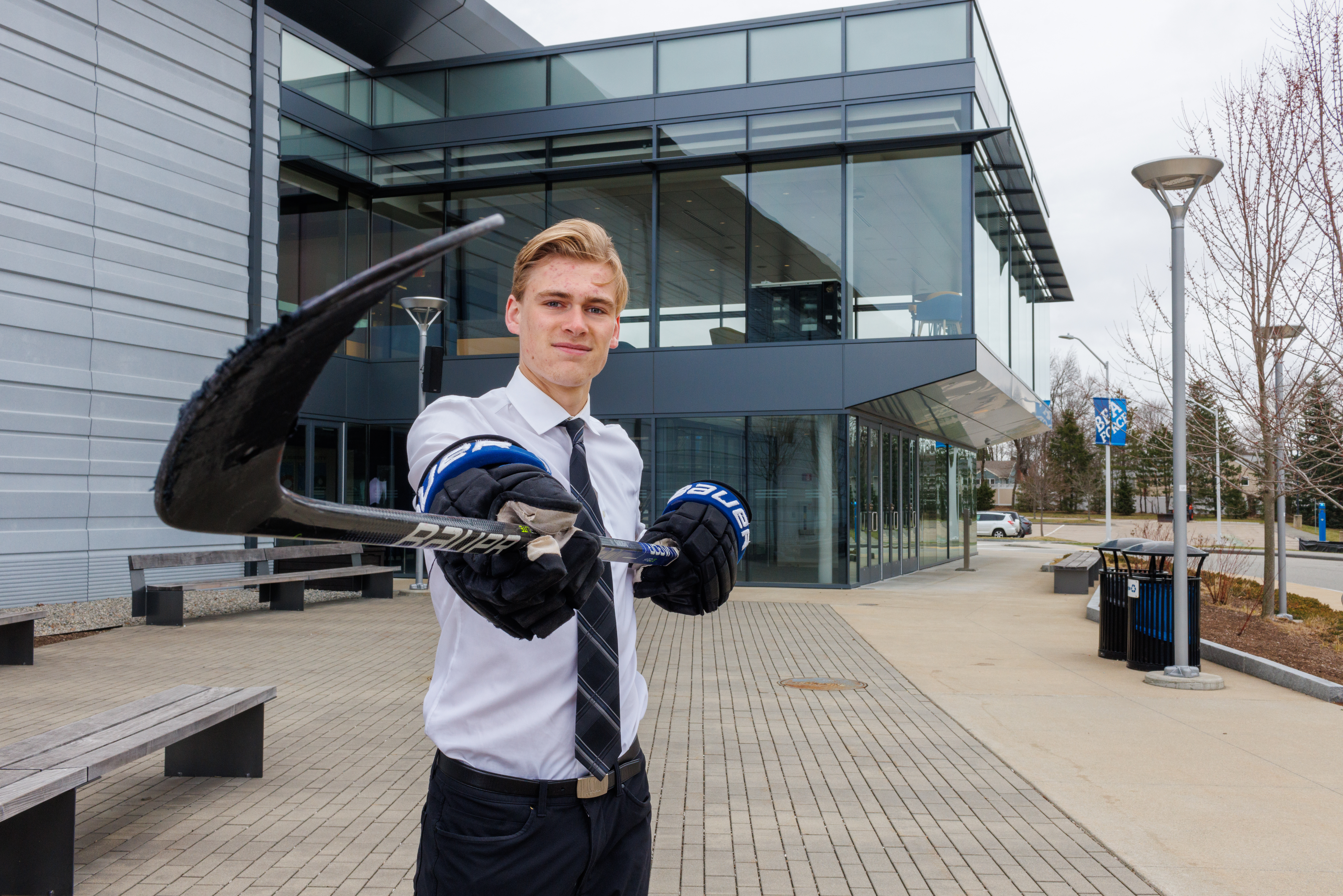 EXECUTING A GAME PLAN
Vanroboys' first taste of entrepreneurship was on his family's farm in Ontario, Canada. "I watched my grandpa and dad get involved in many different types of businesses — everything from trucking companies to bingo halls to sports teams — whenever things slowed down on the farm during the colder months. They have always worn multiple hats at once; with that, I have always been surrounded by entrepreneurial role models being their own bosses and dictating their own destiny."
His college plans were to focus on playing D1 hockey and explore the field of finance. "I always had interests in finance, numbers and money; as a kid I considered a trip to the bank fun. Getting to Bentley, I was excited to study finance; but when I got here, I discovered something even more interesting: economics."
Like his playing style on the ice — quick and swift plays to score a goal — Vanroboys pursued his new academic interest. "I became much more knowledgeable and understanding of the general economy, how it works, how to navigate it and how to identify opportunities within it," Vanroboys says. "I always think of the Eco-Fi major as a clock: the face and hands represent finance while the gears and inner workings are economics. Without one, the other is absent."
Vanroboys has also taken lessons from his coursework "to practice on EndorseMate like a mini-incubator program." In one course, New Venture Planning and Financing (MG 336), he learned how to construct and manage capitalization tables, a breakdown of a company's equity ownership, and created one for EndorseMate while also completing one for his class assignment. In the course New Product Development and Marketing (MK 330), he learned how to develop go-to-market strategies, value propositions and other branding and marketing necessities.
Outside of the classroom, Vanroboys practiced his business acumen in student organizations. He helped create the Bentley Blockchain Association, which helped introduce Bentley to cryptocurrency as a payment method for tuition. In the Entrepreneurship Society, Vanroboys collaborated with faculty members to offer input and help develop the Entrepreneurship Initiative as a future resource for student-run businesses.
Tell us how can we improve this post?