The 2023 Black United Body (BUB) fashion show on March 25 drew a crowd of nearly 1,000 people who gathered in the Bentley Arena for a look at curated collections from local people-of-color designers modeled by Bentley students. But beyond the impressive light show, stylish apparel and carefully choreographed walks down the 60-foot runway, the student-run show delivered a broader message of fashion and inclusivity with a "Planet Synergy" theme.
"Deciding on a theme for the fashion show was one of the most difficult parts of the process because we wanted something that would resonate with all of us," fashion show Director Nyleah Febles '24 says of BUB executive board brainstorming sessions. "As students of color, we might sometimes feel out of place because there aren't a lot of people who look like us in our spaces. A synergy of fashion and inclusivity reflects bringing color to a blank space."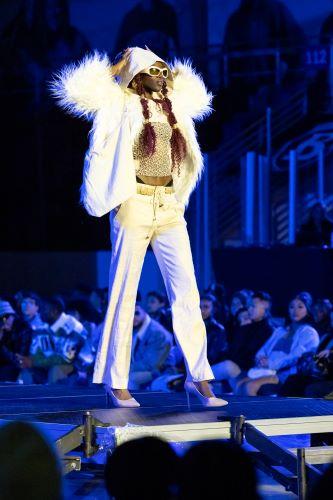 The planet aspect, Febles adds, completes the vision. "We come from a lot of different cultures from all around the world, so we set out to create our own world with a euphoric experience revolving around fashion and celebrating our cultures and creativity."
The theme's vibe set the stage for a show that did not disappoint. The crowd arrived dressed to impress; as they filed into the Arena, they had a chance to shop from a variety of people-of-color vendors and enjoy custom mocktails from Rose Bar. Audience members took their seats and the show opened with an introduction of the BUB fashion show committee members, who took the stage to welcome the cheering crowd. Amid an impressive light show and music by @babyindiglo, 30 Bentley student models walked the runway showcasing designs from CRAV* Industries (designer Lucius Firmin '23), After Awakening, Kaumero (designer Steven Kauvaka '23), Elizabeth Hanh Designs, Dawu Deisgns and EPC LVTN. The energy of the night continued with a live performance by recording artist Joyce Wrice.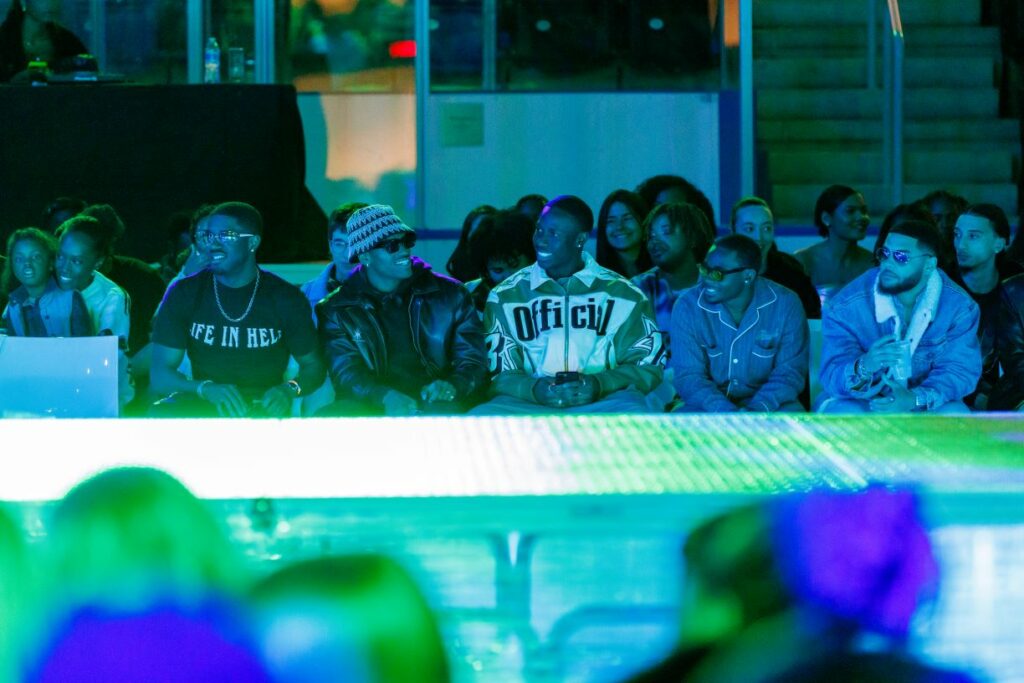 COORDINATING ELEMENTS
It's no surprise that a show of this caliber required careful planning and long hours of work — but what is surprising is that it was all managed by current Bentley undergraduate students. Initial plans began last summer as Febles put on a managerial hat to assemble a fashion show team.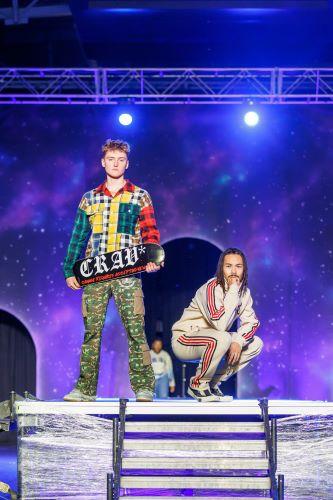 "Communication — knowing how to speak to people — and remaining level-headed are the most important things I have learned being in this role," says Febles. "When it comes to a team, everybody must be comfortable in their roles and know what is expected of them in order to be successful."
Febles also drew on skills she learned in the classroom. "The best class that prepared me to be director the BUB fashion show was Interpersonal Relations, a management class focused on emotional intelligence and being able to sympathize with and understand other people. Being a part of the fashion show can get very stressful for everybody because there are so many components of the program. Being able to give people grace when they say, 'Hey, I'm overwhelmed right now; can somebody please help me with this?' is where my capacity to effectively communicate helped."
Communication was around the clock for nearly eight months: group chats with designers and vendors and among the fashion show committee members; Monday morning check-ins to determine the week's to-do list; requests for help to get tasks done.
"Those project management skills really kicked in," Febles says. "I had to be organized to make sure everyone and everything stayed connected."
The BUB fashion show team, whose majors ranged from Creative Industries and Marketing to Business Economics and Management included Febles as director along with Assistant Director Anuar Bessam '25, Marketing Director Laila Altanbour '25, Production Director Kareem Goussous '23, Production Assistant Madison Harris '24, Production Assistant Gabriel Lopez '25, Modeling Director Neyheymee Mondiere '23 and Marketing Assistant Victoria Saintil '25. The marketing team managed promotions, including social media posts and content creation. The production team worked on set design, audio planning and setup; communicated with an outside production company; and created a run-of-show program.
Tell us how can we improve this post?