Students create a celebration of culture, identity and belonging
At this year's La Raza celebration, the diversity of performances — including salsa, merengue, reggaetón and bachata dancers along with a mariachi band playing traditional Mexican music — captured the Latin community's dynamic heritage. Hosted by the student organization La Cultura Latina (LCL) and held for the first time in the Bentley Arena, this year's event was emceed by comedian Gina Brillon and was themed "Una Noche En Oasis" (A Night in the Oasis). More than 500 people attended.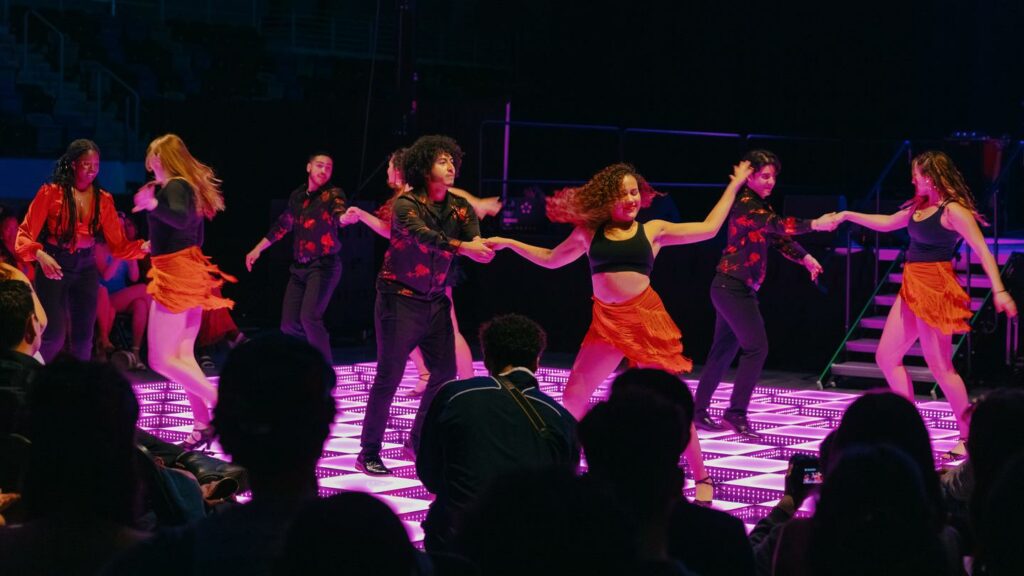 "La Raza is a cultural showcase representing a rich diversity of countries, bringing students from all over the world together," says Humberto Zepeda '24, LCL's events coordinator. "We aim to celebrate our raza (race) and stand by our values of resilience, unity and commitment to our culture while also providing a space and time to share our heritage with others. Several performers will represent their countries and embrace their social identities as we celebrate the connection to our roots."
The Latin American region encompasses 33 countries in Central and South America and the Caribbean, as well as Mexico, and reflects a diverse blend of indigenous, European, African and Asian influences. The décor at La Raza, which featured 10-foot LED palm trees and a colorful floral wall, created a tropical setting and relaxing vibe for people to come together and celebrate. Authentic Central American food — such as pupusas, flautas and picadera, a mixture of foods such as flank steak, chicken wings, french fries, yucca bites and cheese — was provided by Estefani's located north of Boston in Lynn, Massachusetts.
Photos by Emmanuel Boakye-Appiah.
Tell us how can we improve this post?