By Abigail Eisner and Annie McConville, co-presidents of Dresses to Dreams 
When Annie and I first came to Bentley four years ago, Dresses to Dreams was in its fourth year. We were both drawn to the "pay it forward" concept of giving others the same opportunity we were lucky enough to have when we went to our high school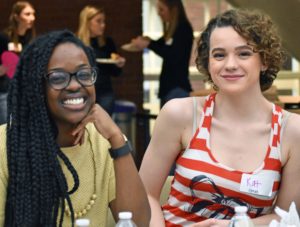 proms. Because some girls don't get all the chances we did.
Dresses to Dreams is a community service program aimed at Massachusetts high school students, providing them with donated gowns and accessories for their special formal. In addition, it offers programs ranging from hair and makeup tips to ways these girls can build self-confidence.
We were eager to get involved. After gaining eboard positions our first year on campus, we helped plan a successful event, and the impact it had on us was incredible. We met strong, beautiful, young women who we knew would go far in life.
EMPOWERMENT WELL BEYOND PROM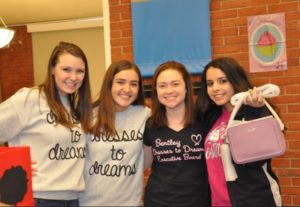 Since then, we've watched Dresses to Dreams grow immensely. What's special about the program is that the original eboard knew, when they started it in 2011 (known then as Enchanted Closet), that there was so much more potential besides providing prom dresses. They decided to create workshops to teach young women empowerment, and to give them a platform for building confidence way beyond looking good for prom.
One great example is Beautiful Betty, a workshop run by Claudette Blot, the director of Bentley's Summer Transition Education Program (STEP), which provides college admission support for high-potential students who may have faced academic, socioeconomic, or personal challenges beyond their control.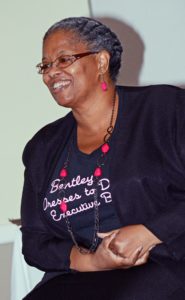 Claudette is an inspiration to everyone that meets her. She gets girls to open up to her, and a few have even written their college essay about the event. Being able to be a part of these seminars leaves a lasting mark on you, and you can really tell they're about so much more than just the dress.
SHAPING YOUNG LIVES
It has been an incredible privilege to watch this program grow and evolve, to the point now where we've been able to secure corporate partnerships to further grow Dresses to Dreams. It's a true testament to the passion and determination our committee and executive board members have.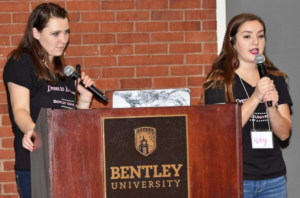 Through many fundraisers, phone-a-thons and other preparation for the event itself, it is evident that our members understand the greater importance of what our group does and how it helps shape these teenagers' lives. We all have taken so many lessons away from this work, including interpersonal communication, time management, event planning/management and financial budgeting. We strive for our attendees to have the best experience possible, and that is done through collaboration, communication and of course, determination.
We are so inspired by the young women that attend this event, and are working on plans to grow this event outside of our community here. We can't wait to see how far Dresses to Dreams can go!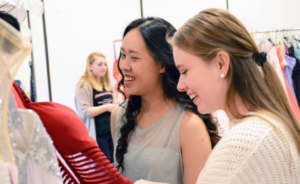 Tell us how can we improve this post?