When it comes to tennis, Rachel Madden has always been a team player. Her time with the Bentley Honors Program has shown her the value of teamwork in the classroom as well.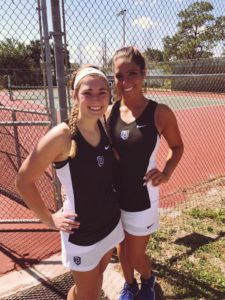 A junior Actuarial Science major with a minor in Public Policy, Rachel wants to turn her passion for math and strong analytical and communication skills into a career as an actuary or actuarial consultant. She's already on her way: This past summer the native of New Hartford, NY, passed the Society of Actuaries Exam P and Exam FM.
In addition to her studies and work on the court, Rachel plays in the Bentley Chamber Orchestra, serves as one of the Sports & Rec co-chairs on the Campus Activities Board, and works as a tutor in the Math Learning Center.
We talked to Rachel about her experience in the Honors Program, and how a closer relationship with her professors and fellow students has enhanced her education and college experience in general.
How has the increased academic challenge of the Honors Program benefited you?
The biggest benefit of the honors program classes is the variety in teaching styles. I think this is a result of professors knowing that honors students really want to learn and won't back down from a challenge. I've had classes like honors GB 110, where instead of taking a final exam, we did a moot court simulation, which was very challenging and a lot of work, but it was also really fun.
Another class I took was honors MA 243, where we got to spend most of class working in groups on very challenging problems. This collaborative environment made learning more difficult material much more manageable and more fun since we got to work in groups with our friends. The variety of class structures overall have made me a more adaptable learner.
What do you like most about the honors course work? What are the advantages to having smaller class sizes?
The smaller class sizes have allowed me to get to know other honors students and my professors better. Structuring classes in distinctive ways is another benefit of smaller classes. I like the variety of class structure and coursework the honors program offers. I took GB 110 with Professor Salimbene and was able to learn more about the court of appeals and take part in moot court simulations that regular sections of 110 weren't able to do.
In my honors MA 243 class, Professor Roth challenged us to work together in groups to solve problems I know I wouldn't be able to do on my own. Additionally, she gave us much more freedom during class to work problems and ask questions. Being exposed to these different teaching styles has made my honors classes really interesting.
How has the Honors Program instilled a sense of community and friendship for you? Have you developed relationships with any alumni or faculty through honors?
Taking a lot of honors classes has made it so I have had a lot of classes with the same honors students. Starting with my First Year Seminar (FYS) class, I have been able to meet and form relationships with a lot of these students. Meeting all these honors students was great because we had a lot of similar interests whether it was sports, student council, or playing musical instruments.
At the same time, everyone was really impressive and had a lot of unique interests that were fun to learn about. I met a lot of my best friends freshman year in my honors orientation group and FYS group. I ended up having a lot of classes with the same friends and still do today. Since we all take challenging classes together, we struggle together and push each other, which makes us closer in the end.
I've developed relationships with Professor Emmy Roth, who was my FYS adviser, and Professor Gulati. Both Emmy and Professor Gulati have made themselves available to me whenever I need them and for whatever reason. They've both helped me with planning my schedule and looking for internships as well as keeping me posted about interesting events on campus. I have been very fortunate to have two amazing professors look out for me like they do.
What do you like about the professors that teach your honors classes?
The professors in the Honors Program have always been challenging expect a lot more out of their students. I've worked on a lot more group projects and have been forced to use what I've learned to do more than write a paper or take an exam. While I may have not liked the extra work at the time, it actually makes the classes more fun, and makes the material easier and more interesting to learn.
I also have enjoyed how the professors don't micromanage the honors students as much. This put a lot of pressure on me as a student to stay on top of my work which made me more invested. When I was doing my homework, it was for me and my benefit, not simply because I would get a zero if I didn't hand it in.
The most notable characteristic I have noticed about the professors who teach honors programs is that they make themselves easily available to their students and genuinely enjoy having students ask questions and come to their office hours. Being so open and friendly made me want to go to office hours even when I didn't have that many questions. This contributed significantly to my acad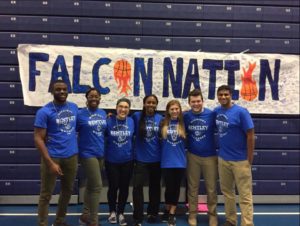 emic success because it allowed me to form meaningful relationships with these professors.
Do you think your experience in the Honors Program will contribute to your ability to get a job after graduation/overall career success?
Being in the Honors Program will definitely contribute to my overall career success. I often talk about the program in interviews, specifically diverse teaching styles I've been exposed to. This definitely has given me a competitive advantage, as I can talk about being a quick learner and someone who likes to be challenged.
Having a lot of friends in the program also drives me. They challenge me academically which I enjoy and they also make great study partners. This also translates well on my resume.
Would you recommend joining the Honors Program to someone else? 
I would recommend joining the Honors Program. I have made a lot of friends in the honors program and have really enjoyed the honors classes. It's nice to feel the sense of community among members of the program. While it may seem like a lot of extra work — having to take the more difficult classes and, of course, the Capstone project — it has so far been a really rewarding experience and I am thankful for all the challenges and opportunities it had brought me.
Tell us how can we improve this post?