By Allison Doucette
606 STUDENTS • 12 CITIES • 11 COUNTRIES • 1 SHIP
When I first considered study abroad, I never imagined it would be on a boat.
With study abroad, I figured I'd go to one specific country to dive into another culture full-time, surrounded by locals. Then I found out about Bentley's Semester at Sea program. Honestly, it took some convincing. But after a few hours of online research, it became clear that, with a chance to travel to 11 countries, this was the trip I needed (even if I might get a little sea sick).
I get asked a lot of questions about SAS. Here are my answers to the three most common:
What was life on a ship like?
First off — Gasp! — there's no Internet. Which means you actually have to talk to people. (Double gasp!) The phrase, "You got any games on your phone?" suddenly becomes very relevant.
The first week of ship life was a major adjustment. Classes were more dynamic because we couldn't just Google the answers we didn't know. Over the course of the semester, I watched a lot of movies, got a killer tan, almost was launched off the treadmill on a rocky sea day, and used way too many sticky notes leaving messages on friends' doors.
Ship life was also about making relationships. On SAS, that includes with faculty. You know the awkward feeling when you see a professor outside of the classroom? Try eating dinner with them every night, babysitting their kids, watching them in a talent show, or even getting a drink with them at the hotel in China.
That being said, without all the distractions we are used to, I was able to get to know my shipmates on a different level than some of the friends I have had much longer. As Dean Dan said, "Who gets to live this life? For one brief moment, we did my friends, we did."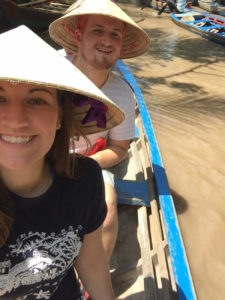 Where did you travel to?
San Diego, California (Embarkation location)
Honolulu, Hawaii (January 12)
Kobe, Japan (January 24-28)
Shanghai, China (January 31-February 5)
Ho Chi Minh City, Vietnam (February 10-14)
Yangon, Myanmar (February 20-25)
Cochin, India (March 1-6)
Mauritius (Sadly, we couldn't stop here, so we had a sunny "snow day" on the ship instead)
Cape Town, South Africa (March 19-24)
Tema, Ghana (March 31-April 3)
Casablanca, Morocco (April 11-14)
Hamburg, Germany (Disembarkation April 19 L)
While these are the cities the ship docked at, we were by no means restrained to stay within this city. Semester at Sea gave us the freedom to travel wherever we wanted to within the country's borders, as long as we made it back to the ship by the time we had to leave to go to the next country.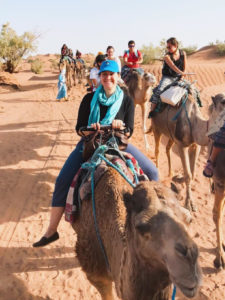 What was your favorite country?
For anyone who has ever gone on Semester at Sea, you know this is a loaded question and impossible to answer. Everyone hates this question!
My standard answer is usually just blurting out a random country I visited. For people who have never been on SAS, it's hard to fathom that we could come out of this four-month journey and not have a favorite destination, when in reality, it's absolutely impossible to choose a favorite.
A better question might be: "What are some of the experiences you had in the countries you went to?" With that in mind, here are a just a few of the amazing experiences I had:
Skiing in Japan
Hiking the Great Wall of China
Crawling through the Cu Chi tunnels in Vietnam
Spending the day with elephants at a conservatory in Myanmar
Hiking and camping through the tea plantations in India
Snorkeling with seals in South Africa
Walking through the Slave Castles in Ghana
Going on a camel trek through the Sahara Desert in Morocco
Semester at Sea certainly isn't an opportunity to be taken lightly. Having returned back to land, I can appreciate how different and rewarding it was. My semester on the MV World Odyssey was more than just study abroad. It was life changing.
Tell us how can we improve this post?